---
Cuban President Insists in Rejecting US Gov´t Hegemony
2019-04-23 09:41:41 / web@radiorebelde.icrt.cu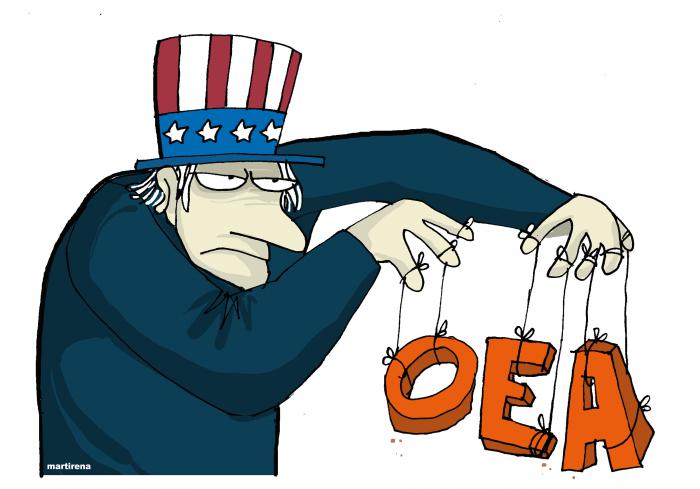 Cuban President Miguel Diaz-Canel has reiterated rejection of US Government´s hegemonic attempts in Latin America and the complicity of the Organization of American States (OAS) with Washington´s plan.
To make his point, Diaz-Canel used a statement late president Fidel Castro made in Twitter: 'Historical events show the hegemonic policy of the United States in our region and the repulsive role of the OAS as odious tool of the powerful country.'

Recently, the Head of State reaffirmed the resistance capacity of the Cuban people in the face of hardened blockade by the full application of the Helms-Burton Act, aimed at doing away with democracy and freedom on the island.

Diaz-Canel further said the US Government is pushing ahead a more violent phase of the Monroe Doctrine, by which Washington is assaulting the legitimate and democratic authorities of Venezuela and Nicaragua.

(PL)

Radio Rebelde. 23 # 258 % L y M. Vedado. Plaza de la Revolucion Havana City, Cuba CP. 10400. Principal Editor: Alejandro Rojas Espinosa. Webmaster: Mabel Peña Styo. Journalist: Liannis Mateu Francés - Yaicelín Palma TejasPhotojournalist: Sergei Montalvo Arostegui. Assistant: Adriana Glez Bravo. Developed by Radio Rebelde Web Team
General Director: Frank Aguiar Ponce.
Phone numbers: (53) 7 838-4365 al 68 (Cabin) (53) 7 839-2524 (Public Relations).
© Copyright Radio Rebelde, 2015