---
Cuban president urges to prioritize cargo transportation by railway
2020-01-15 11:14:30 / web@radiorebelde.icrt.cu
The President of the Republic, Miguel Diaz-Canel Bermudez, urged on Monday to prioritize in 2020 the cargo transportation by rail, as it is a more efficient method for the Cuban economy.
We must transport as much as we can by that means, he said, because of the shape of our country that is the best way to move the cargoes. Besides, he added, it takes away a good proportion of the weight that our roads are supporting today.
Leading a meeting at the Palace of the Revolution to review the Railway Recovery and Development Program -led by Prime Minister Manuel Marrero Cruz- the Cuban president insisted that there is no backtracking on the impact that this important sector has been achieving in 2019.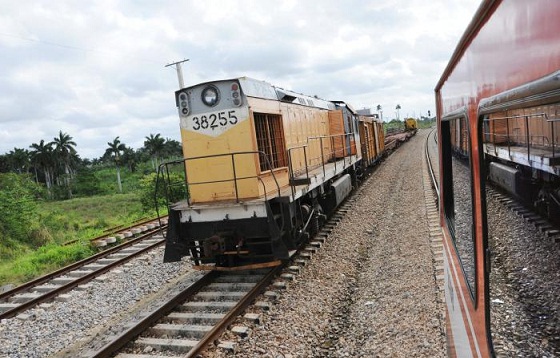 According to the director of the Cuban Railway Industry Union, Eduardo Hernandez Becerra, the cargo transportation plan in 2019 was fulfilled at 91%. Although, he added, in relation to 2018, 852 million tons more were transported, which represented an increase of 7%.
Regarding passenger transportation, he said that the national train service fulfilled the plan at 130%, which resulted in the movement of more than 717.000 passengers, for a growth of 62% compared to 2018.
These numbers benefited from the new Chinese trains, which have transported more than 400.000 people since July. This, Diaz-Canel stressed, has had a significant effect on the quality of service.

(ACN)

Radio Rebelde. 23 # 258 % L y M. Vedado. Plaza de la Revolucion Havana City, Cuba CP. 10400. Principal Editor: Alejandro Rojas Espinosa. Webmaster: Mabel Peña Styo. Journalist: Liannis Mateu Francés - Yaicelín Palma TejasPhotojournalist: Sergei Montalvo Arostegui. Assistant: Adriana Glez Bravo. Developed by Radio Rebelde Web Team
General Director: Frank Aguiar Ponce.
Phone numbers: (53) 7 838-4365 al 68 (Cabin) (53) 7 839-2524 (Public Relations).
© Copyright Radio Rebelde, 2015