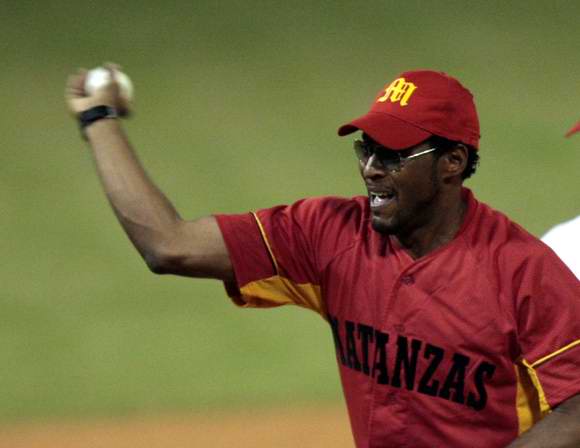 Former high jumper, Javier Sotomayor, throw the first ball that was batted by former boxer Orestes Pedroso during the recently held opening ceremony of the Final Round in the Cuban Baseball Western Division between the squad from Matanzas and the one from Industriales at the Victoria de Girón Stadium.
These two former athletes from Matanzas left their mark in the history of the Cuban sports. Pedroso is remembered as an outstanding figure at the Pan American Games held in Mexico in 1975 when he had a brave performance and bout that he won 3 to 2 against US middleweight boxer, león Spinks.
As it was expected, the bout became a real intense one since the very beginning.
In the first round, Pedroso strongly beat his opponent Spinks, however, the US boxer, who was visibly affected, could finally recover and counterattack. The second round was dominated by the US boxer and it constitutes a great show of courage shown by Pedroso who resisted all the blows thrown by his US rival. The third round was a quite similar repetition of the previous two rounds and in spite of the fact that both boxers concluded it exhausted, the Cuban boxer had a better performance in the last minute of the fight given he did not stop throwing his blows against Spinks, who did not counterattack.
High jumper Javier Sotomayor and his most recent sporting career are remembered due to his outstanding sporting performance that has not been even equaled by any other athlete in the world. His sporting dimension as an athlete shows a personal record that surpasses the 40 centimeters and 2 meters in Salamanca, Spain. Besides, he achieved an identical result of 2 meters and 45 centimeters in the 1989 Indoor World Athletics Championship in Budapest that is also the year in which he achieved a 2 meters and 44 centimeters at an outdoor competition held in Puerto Rico.
After a brief period of time featured by his constant injuries that are common in his specialty, Sotomayor returned to the high-level competition in 1993 and he achieved an impressive 2, 45 meters record which is regarded as the most extraordinary jump ever achieved by a human being in his high-jump specialty to the extent that it still remains unbeaten in the 21st century.

By Dagoberto Miguel Toledo