---
Cubans deported from Mexico arrive in Havana
2019-03-28 10:16:26 / web@radiorebelde.icrt.cu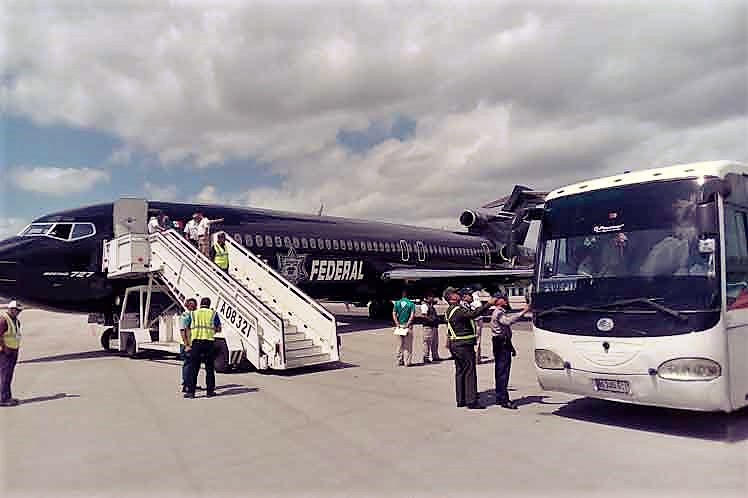 A group of 68 Cuban citizens deported from Mexico, including an 11-year-old girl, arrived in Havana on Wednesday, after several days of dangers as part of an irregular migration that sometimes put even the lives of some at risk.
Each of them brought their own personal anecdotes, such as memories of difficult days, when many were victims of human trafficking, deceit and extortion in different countries, far from their families in their eagerness to reach the United States, a nation that greatly hinders legal travel from Cuba.
That northern country has carried out several actions such as the cancellation of consular services in Havana and the reduction of the period of validity of B2 visas from five years to only three months.
The 35-year-old Henry Gustavo Hantes, one of the deportees, narrated the experiences of risks, fears and lies of others who took advantage of their situation.
He said that some were left without being able to continue, and even mentioned rapes and the loss of several people.
It was never as they told me it would be, added the one who left his country legally on August 20, 2018 to Brazil, from where he began a convoluted journey through countries like Colombia and Guatemala, including through jungle trails.
He assured that this Wednesday in Havana they were well received, as normal citizens, with food, the possibility of medical attention and quick delivery of belongings, another sign that Cuba does not abandon its people.
Idel, another deportee who did not want to say his full name, also referred to several difficult moments, when he was deceived, had terrible conditions, and other individuals even contacted his relatives in Cuba to ask for money in exchange for supposed help.
Among the group that arrived today at Terminal 5 of the José Martí International Airport, there was a girl of only 11 years old, who surely cannot imagine the risk that she and her parents suffered.
All of them will be immediately reinserted in their families, without any kind of problem, unless some have debts with the Cuban authorities.
The return of the 68 people responds to a Memorandum of Understanding on migratory issues between Cuba and Mexico, with the intention of favoring a legal, organized and safe migratory flow.
Cuba has the greatest will to continue implementing a migration policy aimed at increasing Cubans' travel abroad legally, including the United States as a destination.
In 2018, 551,908 Cubans traveled for personal reasons to various nations, which represented an increase of 39.91% over the number in 2017, when 459,406 did so.
During 2018, the number of trips by Cubans residing abroad to their native country also increased, as 600,313 were made, a figure higher than the 517,753 in 2017.

(ACN)