---
Diaz-Canel called for rigorous, detailed and systematic analysis of Plan 2020
2020-01-17 12:22:51 / web@radiorebelde.icrt.cu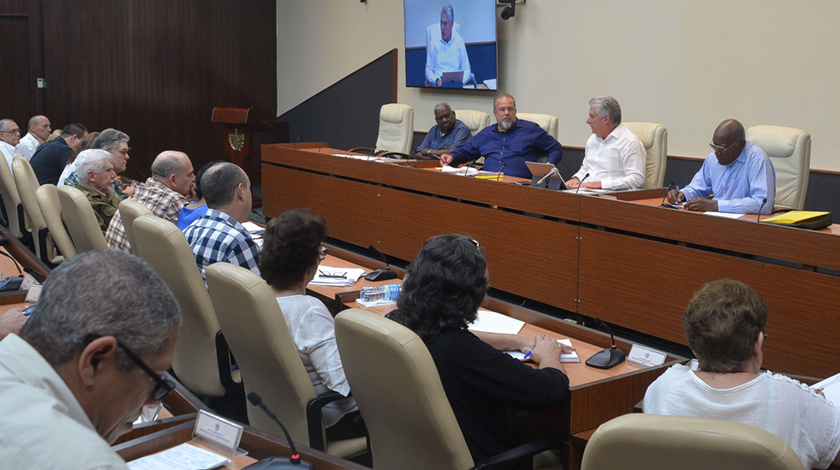 Miguel Diaz-Canel, Cuba´s President, called the presidents of the provincial administration councils, the vice-presidents of administration, as well as the presidents of the provincial assemblies of People's Power and the heads of the administrations of the provinces of Artemisa and Mayabeque to carry out a rigorous, detailed and systematic analysis of the 2020 Economy Plan throughout the year.
It is necessary to pay the greatest attention to the discussion process of the Plan in these first months of the year," he said, "because the best solutions and potential we have in the workplace groups will come out of these meetings, as the Cuban Presidency's website reported.
The quality of these meetings, said the Head of State, cannot be defined by the time they take or the number of addresses, but rather by the contributions of ideas proposed by the workers and the direction they take on decisive issues for the fulfillment of the Plan, such as the better distribution of resources, exports or more efficient use of fuel.
He pointed out that from now on, special follow-up must be given to the creation of the new government structures in the country, a process which begins in the next few days with the handover and reception of the posts of Governor and Mayor at municipal level, and then continues with the constitution of the provincial councils.
Among other priority issues for the work of the Government in its different instances, Diaz-Canel highlighted the development of the cold campaign, urging more promotion of the use of animal traction and encouraging polyculture; the harvest, which has not had a good start in general; the transformation process to be initiated in gastronomy; and the Mother and Child Program.
He also insisted on the attention that must be paid throughout the year to the four fundamental work priorities already defined: the struggle against the empire's colonizing platform; the defense of the country; the intense legislative exercise initiated to support the Constitution; and the economic battle, as part of which it is decisive to comply with the savings measures already designed.
The meeting was led by the vice president of the Republic, Salvador Valdes Mesa; and also participated the PM, Manuel Marrero Cruz; the president of the National Assembly of People's Power, Esteban Lazo Hernandez; and several deputy prime ministers of the nation.

(ACN)

Radio Rebelde. 23 # 258 % L y M. Vedado. Plaza de la Revolucion Havana City, Cuba CP. 10400. Principal Editor: Alejandro Rojas Espinosa. Webmaster: Mabel Peña Styo. Journalist: Liannis Mateu Francés - Yaicelín Palma TejasPhotojournalist: Sergei Montalvo Arostegui. Assistant: Adriana Glez Bravo. Developed by Radio Rebelde Web Team
General Director: Frank Aguiar Ponce.
Phone numbers: (53) 7 838-4365 al 68 (Cabin) (53) 7 839-2524 (Public Relations).
© Copyright Radio Rebelde, 2015