---
Diaz-Canel nominated to be President of Cuba
2018-04-19 08:55:06 / web@radiorebelde.icrt.cu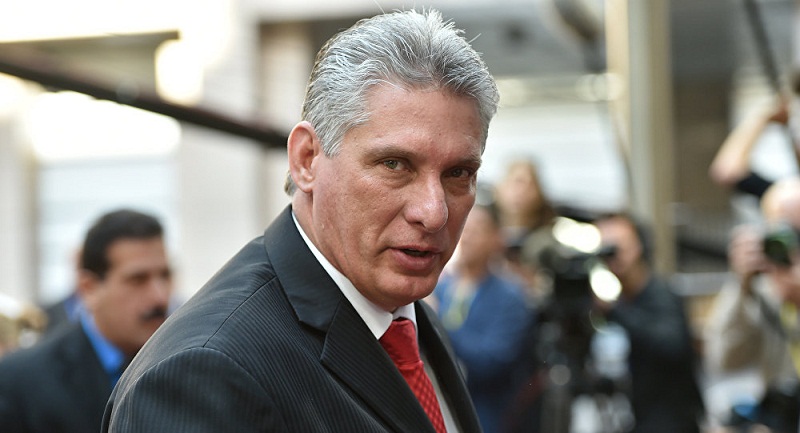 Miguel Diaz-Canel Bermudez was nominated by the National People´s Power Assembly (parliament) to be the new President of Cuba for a five-year period.

Diaz-Canel, a 58 years old engineer, has been the First Vice-President of Cuba since 2013. He is a member of the Politburo of the Cuban Communist Party. Previously he was first secretary of the Party in the Villa Clara and Holguin provinces, and in 2009 was appointed by his predecessor, Army General Raul Castro, as Minister of Higher Education.

Salvador Valdes Mesa was nominated to take the position of First Vice-President. He was one of the five Cuban vice-presidents and before he was the Secretary General of the Cuban Workers Confederation (CTC)

The five vice-presidents nominated were: Commander of the Revolution Ramiro Valdes, General Comptroller Gladys Bejerano, the President of the National Institute of Water Resources Ines Chapman, Minister of Public Health Roberto Morales and Beatriz Jhonson Urrutia, President of the People´s Power Assmbly in Santiago de Cuba.

The Assembly also elected nominated 23 member of the Council of State. The most significant facts of this new body is that 45 percent of the nominees are women, including Olympic champion in hammer Yipsi Moreno.

(ACN)

Radio Rebelde. 23 # 258 % L y M. Vedado. Plaza de la Revolucion Havana City, Cuba CP. 10400. Principal Editor: Pablo Rafael Fuentes de la Torre. Webmaster: Mabel Peña Styo. Journalist: Liannis Mateu Francés - Laura Barrera Jerez.Photojournalist: Sergei Montalvo Arostegui. Comunity Manager: Alejandro Rojas. Assistant: Adriana Glez Bravo. Developed by Radio Rebelde Web Team
General Director: Frank Aguiar Ponce.
Phone numbers: (53) 7 838-4365 al 68 (Cabin) (53) 7 839-2524 (Public Relations).
© Copyright Radio Rebelde, 2015