---
Diaz-Canel receives President of Laos National Assembly
2019-02-14 11:10:36 / web@radiorebelde.icrt.cu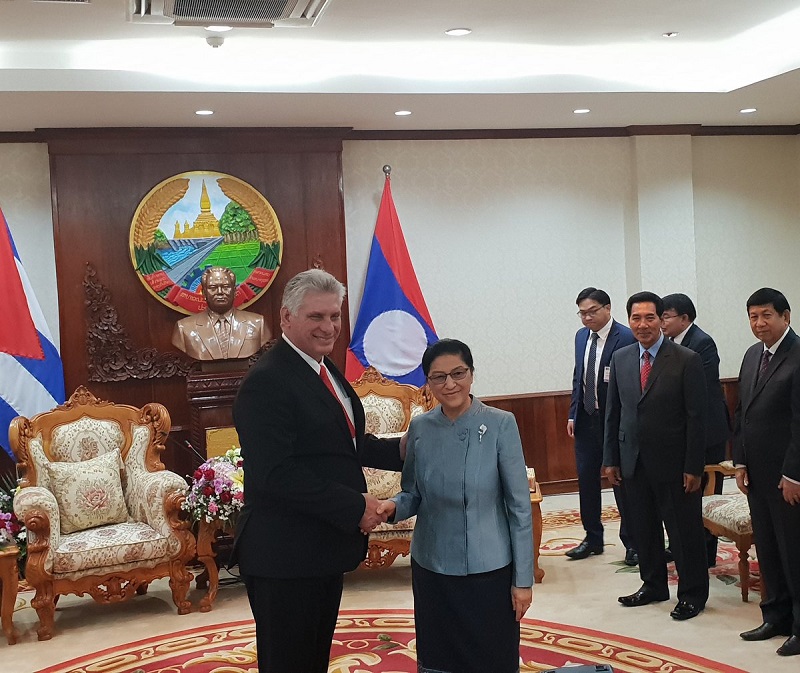 The President of the Councils of State and Ministers, Miguel Diaz-Canel Bermudez, received Pany Yathotou, President of the National Assembly of the Lao People Democratic Republic, who is in Cuba on an official visit, invited by the National Assembly of People's Power, this Wednesday at the Palace of the Revolution.

During the cordial meeting, the distinguished visitor expressed her solidarity with the victims of the tornado that hit several municipalities of the capital and valued as very important the meeting she held in November last year with the Cuban leader in Vientiane.

Díaz-Canel thanked her for the support Cuba has always received from the Lao People's Democratic Republic in its fight against the blockade imposed by the U.S. government and outlined the process of drafting the Constitution that will be submitted to a referendum on February 24. The Cuban President asked Pany Yathotou to convey his greetings to President Bounnhang Vorachith and reiterated his gratitude for the warm welcome received during his visit to the sister nation.

On the Laotian side, Mrs. Anouphone Kittirath, Ambassador to Cuba, was present. Also present were Ana María Mari Machado and Yolanda Ferrer Gómez, vice-president of the National Assembly of People's Power and president of the International Relations Commission, respectively.

(ACN)

Radio Rebelde. 23 # 258 % L y M. Vedado. Plaza de la Revolucion Havana City, Cuba CP. 10400. Principal Editor: Pablo Rafael Fuentes de la Torre. Webmaster: Mabel Peña Styo. Journalist: Liannis Mateu Francés - Laura Barrera Jerez.Photojournalist: Sergei Montalvo Arostegui. Comunity Manager: Alejandro Rojas. Assistant: Adriana Glez Bravo. Developed by Radio Rebelde Web Team
General Director: Frank Aguiar Ponce.
Phone numbers: (53) 7 838-4365 al 68 (Cabin) (53) 7 839-2524 (Public Relations).
© Copyright Radio Rebelde, 2015