---
Diaz-Canel reiterates support for Venezuelan sovereignty
2019-01-09 12:25:01 / web@radiorebelde.icrt.cu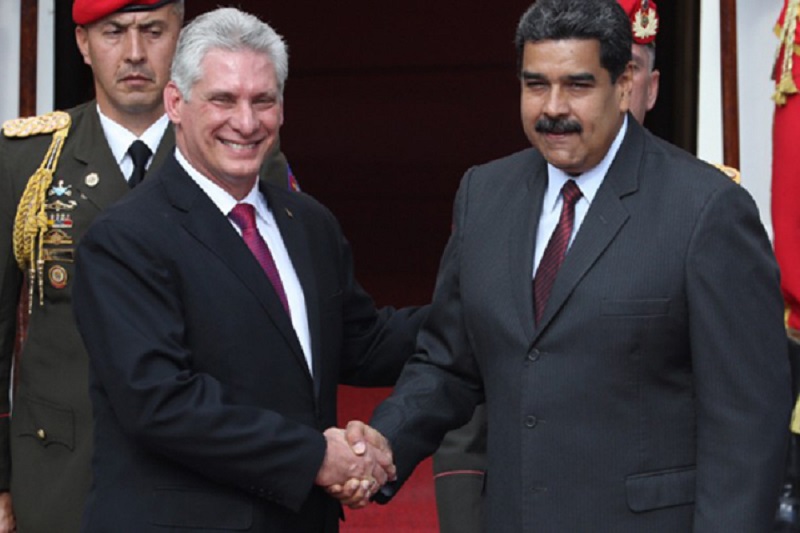 Cuba defends and supports Venezuelan sovereignty and Bolivarian integration, said Miguel Diaz-Canel, President of the Councils of State and Ministers.
In Twitter, the president ratified that he will soon be in Caracas to attend the inauguration of the reelected president of Venezuela, Nicolás Maduro, whose ceremony will take place on January 10.
The Venezuelan capital will be the first foreign destination for 2019 for the Cuban president, who this year also plans to visit several African countries, was announced recently by the CubanForeign Ministry.
Díaz-Canel will travel to Caracas for the ceremony in which Maduro will assume his functions for a new term of office after being re-elected on May 20, 2018 with more than 57 percent popular support.
Recently the Cuban leader expressed in that same social network that the sovereignty of our peoples is being resolved today in the attitude towards Venezuela. To support the legitimate right of the sister nation to decide its destiny is to defend the dignity of all. Our America can never again be the backyard of the Empire.
Several world leaders have confirmed their attendance at the inauguration in Caracas, including Bolivian President Evo Morales.


(ACN)

Radio Rebelde. 23 # 258 % L y M. Vedado. Plaza de la Revolucion Havana City, Cuba CP. 10400. Principal Editor: Pablo Rafael Fuentes de la Torre. Webmaster: Mabel Peña Styo. Journalist: Liannis Mateu Francés - Laura Barrera Jerez.Photojournalist: Sergei Montalvo Arostegui. Comunity Manager: Alejandro Rojas. Assistant: Adriana Glez Bravo. Developed by Radio Rebelde Web Team
General Director: Frank Aguiar Ponce.
Phone numbers: (53) 7 838-4365 al 68 (Cabin) (53) 7 839-2524 (Public Relations).
© Copyright Radio Rebelde, 2015