---
Diaz-Canel: Unity is key to recovery in Havana
2019-02-14 10:57:06 / web@radiorebelde.icrt.cu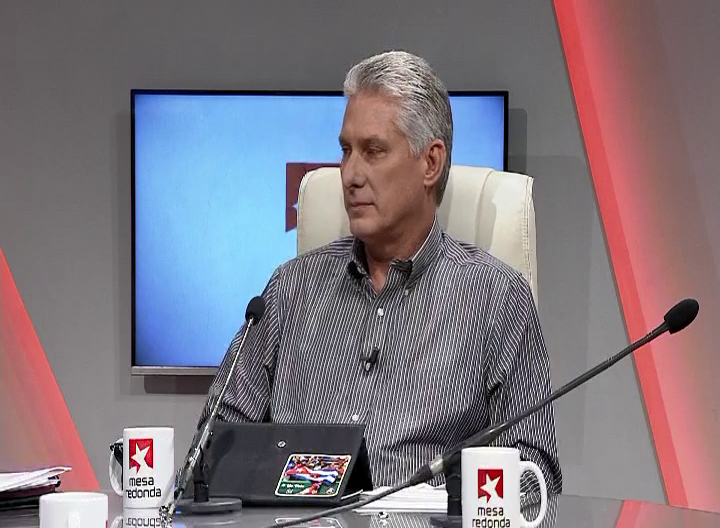 Miguel Díaz-Canel, President of the Councils of State and Ministers, assured that the recovery of the damage caused in the capital by the January 27 tornado demonstrates Cuba's unity, strengths and capacity to develop.

In the Roundtable television program, the Cuban leader stressed that by comparing the magnitude of the tragedy with the willingness to recover, collective leadership has been strengthened, ministries have been linked with local governments and leaders with those affected, which helps to develop greater awareness.

He added that these tasks are developed in a complex and tense international context due to the intensification of the blockade, the military options against Venezuela and the show orchestrated this Tuesday by the Organization of American States that tried to question the popular debate around the Constitution that will be submitted to a referendum next February 24.

We continue to strengthen our economy and defense and Cuba continues to be a reference to the world in terms of protecting the population, added Diaz-Canel in the program attended by members of the Council of Ministers and provincial and municipal leaders of Havana.


He emphasized that the country continues with the plans of the economy, the sugar harvest, the potato campaign, the high international tourist season, and even the celebration of three important events of international connotation: the Balance of the World, Pedagogy 2019 and the Book Fair.

The President explained that there were opinions that tried to impose a matrix to destroy unity with false news that was forgotten and that although there have been complaints, after an event that has left so many wounds, there has been no lack of sensitivity to listen and solve them.

(ACN)

Radio Rebelde. 23 # 258 % L y M. Vedado. Plaza de la Revolucion Havana City, Cuba CP. 10400. Principal Editor: Pablo Rafael Fuentes de la Torre. Webmaster: Mabel Peña Styo. Journalist: Liannis Mateu Francés - Laura Barrera Jerez.Photojournalist: Sergei Montalvo Arostegui. Comunity Manager: Alejandro Rojas. Assistant: Adriana Glez Bravo. Developed by Radio Rebelde Web Team
General Director: Frank Aguiar Ponce.
Phone numbers: (53) 7 838-4365 al 68 (Cabin) (53) 7 839-2524 (Public Relations).
© Copyright Radio Rebelde, 2015