---
Ecuador: Eight Presidential Tickets will go to Elections next February
2016-11-22 07:34:33 / web@radiorebelde.icrt.cu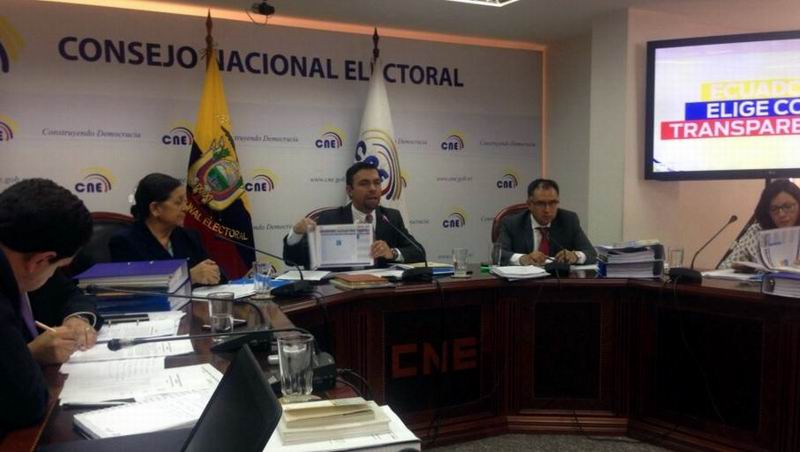 A total of eight binomials were officially registered to opt for the presidency and vicepresidency of Ecuador in general elections of Ecuador next February.

At the ballots, on February 19, the people will decide for the consolidation of the citizen revolution, started almost a decade ago by president Rafael Correa or for change, despite the achievements made at national level.

One month, from October 19 thru November 18, political parties had time to make official their candidacies, in strict compliance of the Electoral Calendar.

The list starts with Guillermo Lasso and Andres Paez for Creo-Suma, second for the couple of Agreement for Change, Paco Moncayo and Monserrat Bustamante.

Dalo Bucaram and Ramiro Aguilar, for the Party Fuerza Ecuador, y Cynthia Viteri junto a Mauricio Pozo, en representación del Partido Social Cristiano, fueron los próximos en legalizar sus nominaciones.

The government Movement Alianza Pais, with the formula Lenin Moreno-Jorge Glas, the Movement Fuerza Compromiso Social with Ivan Espinel and Doris Quiroz and Patricio Zuquilanda together with Johnnie Jorgge, of the Partido Sociedad Patriotica complete the registry.

The eve, the plenum of the Electoral National Council, headed by the president, Juan Pablo Pozo, as well as the Councillors, Mauricio Tayupanta, Ana Marcela Paredes and Luz Haro, in permanent session, gave the green light to the nominees.

'As National Electoral Council, we will always be ready to establish dialogue tables that make proposals and are constructive of the different parts of the electoral process, respecting the will of the people', assured Pozo.

The President warned the doors of his institution are open to all registered political organizations, in order to promote a permanent dialogue.

He also emphasized that the process of inscription was completed in a successful manner last November 18 with the support from the 24 Provincial Electoral Boards, to all political formations.

The system worked to perfection, without presenting any setback in the 24 boards, he asserted.

On the other hand, he advanced that in the next few days he will say if there are any objections to the nominations presented, inside the terms established in the electoral law.

According to the chronogram, next January 2nd the summons to register national electoral observers will be open until January 5.

For January 3 the campaign of the political parties will begin and on the 22nd of the same month there will be the first drill, and the voting will be on February 19.

(PL)

Radio Rebelde. 23 # 258 % L y M. Vedado. Plaza de la Revolucion Havana City, Cuba CP. 10400. Principal Editor: Pablo Rafael Fuentes de la Torre. Webmaster: Mabel Peña Styo. Journalist: Liannis Mateu Francés - Laura Barrera Jerez.Photojournalist: Sergei Montalvo Arostegui. Comunity Manager: Alejandro Rojas. Assistant: Adriana Glez Bravo. Developed by Radio Rebelde Web Team
General Director: Frank Aguiar Ponce.
Phone numbers: (53) 7 838-4365 al 68 (Cabin) (53) 7 839-2524 (Public Relations).
© Copyright Radio Rebelde, 2015