---
Esteban Lazo Thanks Africa Support Against the Blockade
2017-11-03 10:53:06 / web@radiorebelde.icrt.cu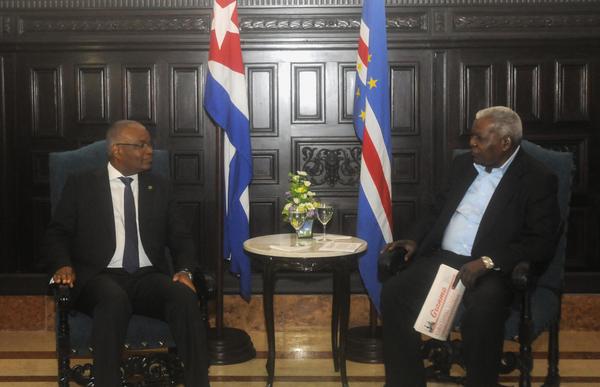 The President of the Cuban National Assembly, Esteban Lazo Hernandez thanked on Thursday in Havana the African governments for voting for Cuba's Resolution demanding an end to the economic, commercial and financial blockade imposed by the US against the Caribbean island.

During a meeting with his counterpart from Cape Verde, Jorge Pedro Mauricio dos Santos, the Cuban Parliament President recalled the words of Foreign Minister Bruno Rodriguez when he affirmed that the island will never accept conditions or impositions.

Lazo highlighted the solidarity ties that characterizes Cuba and Cape Verde and pointed out that Commander in Chief Fidel Castro was the main author of those ties of brotherhood and respect and recognized the demonstration of support of the people and government of Cape Verde when the leader of the Revolution passed away.

He added that 719 youths from Cape Verde have graduated in university studies in Cuba and there are currently 25 studying in the Caribbean island.

Lazo Hernandez referred to the over 660 Cuban health professionals that have worked in that African nation and pointed out that a medical brigade currently offer their services in that country.

He stressed that the visit of Mauricio dos Santos will strengthen bilateral ties including commercial exchange and praised Cuba's commitment in cooperating in the development of health, education, and agriculture and tourism sectors of Cape Verde.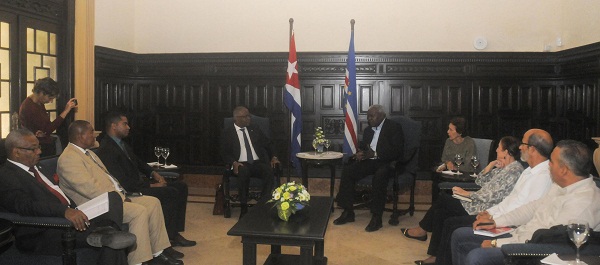 The President of the National Assembly of the African nation said that the invitation allows him to carry out direct contact with the reality of the Caribbean nation.

The African leader added that his country follows the role of the Cuban Revolution in not only Latin America and the Caribbean, but also the world, and praised the island's achievement in health, education and science.

He pointed out that Cape Verde has supported Cuba in demanding an end to the blockade and that is why they voted in favor of Cuba and against Washington's absurd policy at the UN General Assembly.

Mauricio dos Santos highlighted the positive relations that unites the two peoples and concluded: "we are brothers, friends and have the same blood".

The President of the Cape Verde Parliament and delegation arrived to Havana on October 31st and as part of a program of activities met with international combatants and placed floral wreaths to the Revolutionary leader of the African nation, Amilcar Cabral and Cuba's National Hero Jose Marti.

According to the working agenda, the Cape Verde Parliament President met on Thursday with Cuba's Health Minister Roberto Morales Ojeda and Friday he is scheduled to visit the Hermanos Ameijeiras Clinical Hospial in addition to sports installations in the city.
By Ana Leticia Lopez Enamorado

(ACN)

Radio Rebelde. 23 # 258 % L y M. Vedado. Plaza de la Revolucion Havana City, Cuba CP. 10400. Principal Editor: Pablo Rafael Fuentes de la Torre. Webmaster: Mabel Peña Styo. Journalist: Liannis Mateu Francés - Laura Barrera Jerez.Photojournalist: Sergei Montalvo Arostegui. Comunity Manager: Alejandro Rojas. Assistant: Adriana Glez Bravo. Developed by Radio Rebelde Web Team
General Director: Frank Aguiar Ponce.
Phone numbers: (53) 7 838-4365 al 68 (Cabin) (53) 7 839-2524 (Public Relations).
© Copyright Radio Rebelde, 2015