---
Eusebio Leal Granted Chile's Merit Order
2018-02-23 06:15:54 / web@radiorebelde.icrt.cu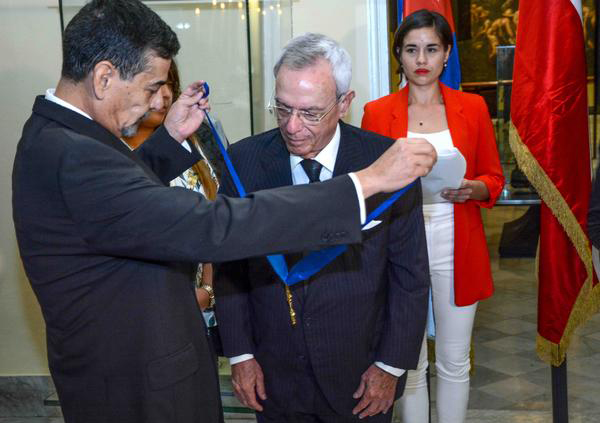 Dr. Eusebio Leal Spengler, City Historian of Havana was granted on Thursday in Havana the Chilean Merit Order by the ambassador to that South American nation in Havana, Ricardo Herrera.

The official declaration was expedited and signed last February 2 nd at the Moneda Palace by Chilean President Michelle Bachelet; sealed with the republic's coat of arms and endorsed by the Ministry of Foreign Affairs.

In the official communique, the Chilean Head of State exposed that: "the action awaits that this piece, example of our esteem and appreciation, encourages him to repeat praiseworthy virtues and noble friendship towards Chile".

Herrera also shared the letter sent by Bachelet, highlighting the pride that the award represents for such illustrious historian who constitutes one of the major architects of the conscious of Latin American heritage.

The Chilean President characterized the moment as "an act of justice for a man, which, for decades has fought to preserve the historic memory of our peoples".

She recalled that Chile has granted Eusebio Leal with the Doctrine Award of the Central University of Santiago de Chile; the Pablo Neruda Presidential Honor Medal; and the Key to the City of Valparaiso, World Heritage Site.

Leal expressed gratitude in receiving the high distinction and above all, receiving the medal at the Flag Salon of the Captain General Palace.

The City Historian recalled and thanked the illustrious Chilean people and recalled when Salvador Allende presented him a Flag from that South American nation in the same Palace.

"The Homeland is a poem, it is a desire, it's an expression of feeling from the heart; the country is a singular territory that forms our character; among volcanoes, between mountains and palm trees; here at the shore of the sea which is the ocean that does not divide us, but unites us", concluded Eusebio Leal.

The official ceremony included the presence of the diplomat corps accredited in Cuba, members of the Foreign Ministry and guests from both countries.

The Merit Order is the oldest distinction in the country, created in 1817 by the Supreme Liberator Director Bernardo O'Higgins and has the objective of awarding foreign citizens for their outstanding civil services given by the Republic of Chile.

(ACN)

Radio Rebelde. 23 # 258 % L y M. Vedado. Plaza de la Revolucion Havana City, Cuba CP. 10400. Principal Editor: Pablo Rafael Fuentes de la Torre. Webmaster: Mabel Peña Styo. Journalist: Liannis Mateu Francés - Laura Barrera Jerez.Photojournalist: Sergei Montalvo Arostegui. Comunity Manager: Alejandro Rojas. Assistant: Adriana Glez Bravo. Developed by Radio Rebelde Web Team
General Director: Frank Aguiar Ponce.
Phone numbers: (53) 7 838-4365 al 68 (Cabin) (53) 7 839-2524 (Public Relations).
© Copyright Radio Rebelde, 2015