First group of Cuban doctors return to Cuba from Ecuador
2019-11-19 14:14:30 / ACN
---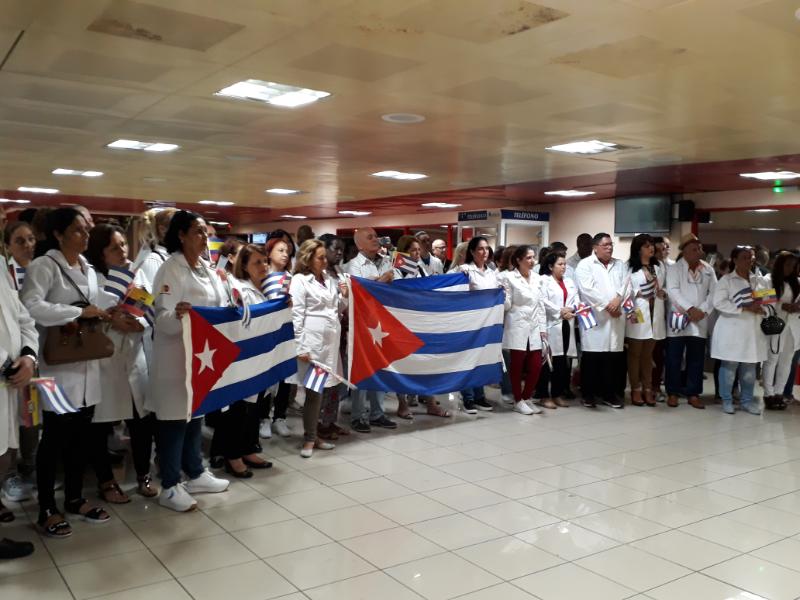 In Ecuador we have left grateful patients, of low resources, pending surgery and who cried for the sudden departure of Cuban doctors, said Dr. Nivardo Rodriguez when he arrived today, in the homeland, in the first group of collaborators from that nation.
At three o'clock this morning, the plane landed at the Antonio Maceo International Airport in Santiago de Cuba, with 173 specialists dressed in the same uniforms with which they saved thousands of lives in inaccessible areas where medical specialties were not offered.
Since 1992 the Medical Mission began in Ecuador, in 23 of its 24 provinces and in 27 years there were more than 3.565,000 health professionals dedicated to medical consultations, surgical procedures, Operation Miracle, imaging studies and 50 kidney transplants in children, among other services.
Members of the Central Committee of the Cuban Communist Party, Lazaro Exposito Canto, First Secretary in this province and Beatriz Johnson Urrutia, Vice President of the State Council and President of the Assembly of People's Power in the territory, welcomed them at the airport.
When greeting them, Johnson stressed that the actions of the doctors demonstrated the enormous human qualities of the Cuban people and highlighted the unquestionable professional skills of those who were there.
The Ministry of Health announced the return of the doctors to Cuba in recent days, at the request of the cowardly and submissive president in power.
It was also known that another group of 183 collaborators, coming from Quito, Ecuadorian capital, will be arriving in this city after 4:00 pm today.