---
FM Bruno Rodríguez Opens Meeting of Cubans Resident Abroad
2010.01.27 - 14:44:48 / web@radiorebelde.icrt.cu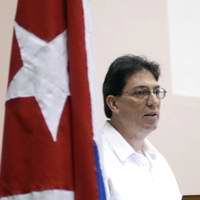 HAVANA, CUBA.- Foreign Minister Bruno Rodriguez Parrilla opened on Wednesday a meeting between Cuban authorities and some 450 Cubans resident in 42 countries.
Speaking in the inauguration of the meeting at Havana's Convention Center in front of the representatives of associations of Cubans resident abroad, the high-ranking official emphasized Cuba's invariable and irreversible willingness to normalize relations with the Cuban emigration "although the US financial, commercial and economic blockade stands between us," he said.
After stressing the need to end Washington's criminal policy against the island, he recalled that only a few years ago Cubans residing in nearly 40 nations made efforts to eliminate the US Government's blockade, while today, the number of countries from which they carry out actions against this unilateral measure have significantly increase.
"We are willing to have a dialogue with the White House based on respect," he added before recalling that the removal of Cuba from the US list of state sponsors of terrorism, the devolution of the territory occupied by the US Naval Base in Guantanamo, the release of the five Cuban anti-terrorist fighters and the end of the blockade, should be items on the agenda.
The meeting will take place through January 29th under the slogan "Meeting of Cubans Resident Abroad against the Blockade and in Defense of National Sovereignty."
Some of the topics to be discussed by participants include the defense of national sovereignty, the fight for the release of the five Cuban anti-terrorist fighters who remain unjustly imprisoned in the United States, the role of culture in the preservation of national identity, and links with the Homeland.
Delegates to this event represent 106 associations of Cubans resident abroad from 61 nations.
A similar event took place in Havana on March 19-21, 2008.


(ACN)

Radio Rebelde. 23 # 258 % L y M. Vedado. Plaza de la Revolucion Havana City, Cuba CP. 10400. Principal Editor: Pablo Rafael Fuentes de la Torre. Webmaster: Mabel Peña Styo. Journalist: Liannis Mateu Francés - Laura Barrera Jerez.Photojournalist: Sergei Montalvo Arostegui. Comunity Manager: Alejandro Rojas. Assistant: Adriana Glez Bravo. Developed by Radio Rebelde Web Team
General Director: Frank Aguiar Ponce.
Phone numbers: (53) 7 838-4365 al 68 (Cabin) (53) 7 839-2524 (Public Relations).
© Copyright Radio Rebelde, 2015