---
French Drugstore Collection Proposed for Heritage of Mankind
2017-06-01 10:03:11 / web@radiorebelde.icrt.cu / Translated by: JC Caballero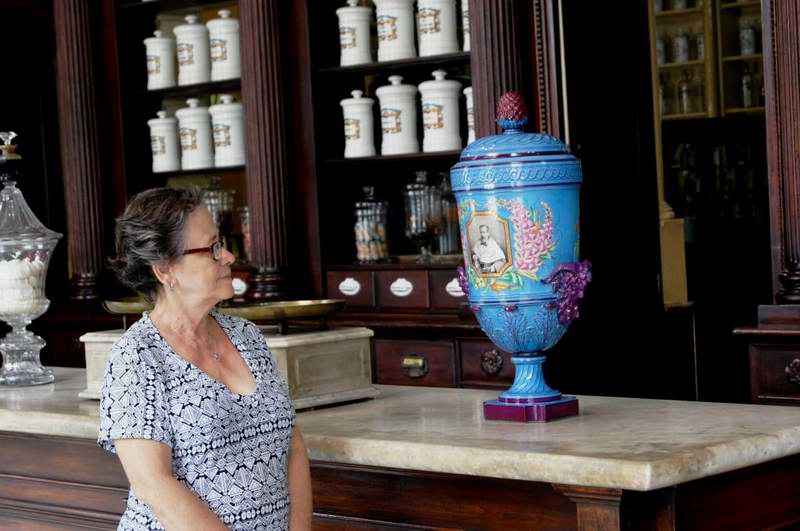 Marcía Brito is one of the few citizens who has the privilege about having lived a long period of her life in an environment from the end of the 19th century by being surrounded by priceless objects in Matanzas province.

She has been somehow regarded as the kind of representative of the Triolet family, so it is not weird that she has enough courage to face the apathy and practically religious patience to consecrate some impossible restorations by showing the proven working commitment to demonstrate that space has not been enough renowned, again and again.

She decided to make the direct comment:

"Now or Never" and smiled with satisfaction.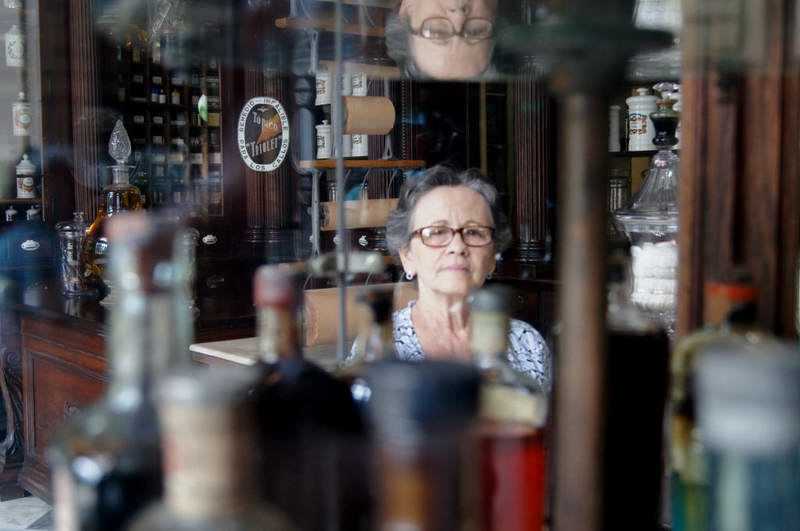 En garde ´On guard.´

Marcia Brito´s life had taught her to answer some indecorous proposals like those ones which upset, blur the sight and begets a deep anger anybody. However, she uses her calm and she answers through a detailed work that shows elegancy and culture in relation to what it represents and the sorrow before the human poverty.

She will never forget the hot afternoon when she was just graduated from her degree in Botanic and she was invited to cross the fragrant wooden door which was keeping an enigmatic herbarium.

I suspect that she was feeling all the scents preserved there and some known ones, other exotic ones so that the miracle could happen.

Pret ´Price´

"If we already concluded the file to make the proposal to the UNESCO that the Pharmaceutical Museum from Matanzas province has enough values so that its documental funds aspires to the Mankind Heritage, especially its only French drugstore from the end of the XIX century which is preserved in the world. " Marra Marcía Brito, who is the director of the cultural institution that shows its category as a National Monument, said.

In the middle of that exceptional environment of its interior courtyard, Marcia Brito sat down on her chair, while I was watching the three related equipment made of copper that were used to sieve and obtain the essential oils, and she talked again:

"It is about over a million and have of receipts of products of the Spanish, French, US and Cuban pharmacology which are included through thick books that we treasure. However, we have much more given we preserve the books of receipts of the previous pharmacy to the one that was founded by Triolet in 1882. It is an incredible treasure that we should put at the service of mankind."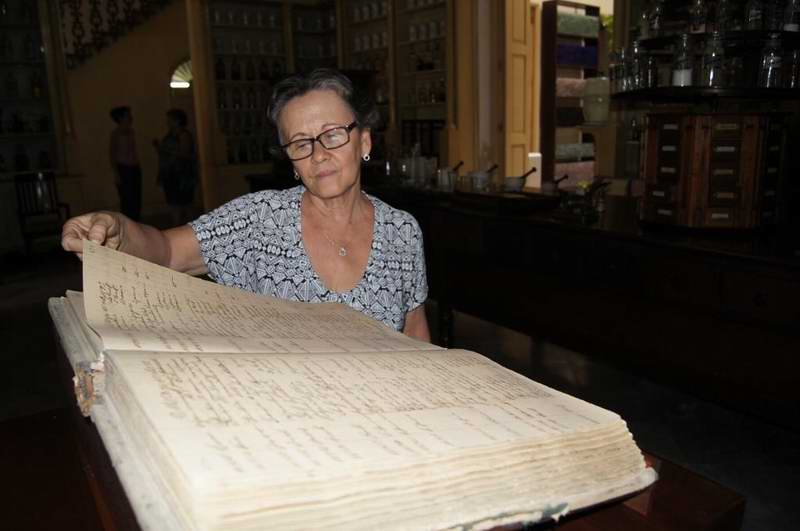 "Allez" Going Ahead

"The well-preserved books about the related prescriptions shows the development of the pharmaceutical sciences in almost a century and not only about Cuba, taking into account that the founders of this drugstore worked in Madrid, Paris and the United States, so they included the then formulas from those times." Marcia Brito said.

"I even say much more, it is a source to study the diseases, its evolution and the way the then medicines were being adapting to the characteristics of the local population. They are already digitalized for their consultation, fortunately, and it is here where the beginning of the Cuban pharmacology begins. It is like a documentation warehouse that remains waiting for revealing its values in terms of scientific, technique, pharmaceutical and historic information. It contains related information from 1873 to 1964." Marcia Brito pointed out.

Marcia Brito stops and stated: We have some information about the links of the drug store owned by Juan Fermín Figueroa with the most renowned related laboratories of that time such as the Sarrá, Taquechel, Johnson, just to mentions some of them and their mutual business.

Would be this the first occasion that a Cuban cultural institution proposes all its documentary funds as a Mankind Heritage?

Marcia Brito smiled mischievously and just pronounced the French work ´Touche.´

By José Miguel Solís

Radio Rebelde. 23 # 258 % L y M. Vedado. Plaza de la Revolucion Havana City, Cuba CP. 10400. Principal Editor: Pablo Rafael Fuentes de la Torre. Webmaster: Mabel Peña Styo. Journalist: Liannis Mateu Francés - Laura Barrera Jerez.Photojournalist: Sergei Montalvo Arostegui. Comunity Manager: Alejandro Rojas. Assistant: Adriana Glez Bravo. Developed by Radio Rebelde Web Team
General Director: Frank Aguiar Ponce.
Phone numbers: (53) 7 838-4365 al 68 (Cabin) (53) 7 839-2524 (Public Relations).
© Copyright Radio Rebelde, 2015