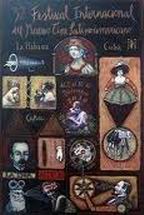 HAVANA, Cuba. - The 32nd International Festival of the New Latin American Cinema was inaugurated Thursday with the opening words by president of the event Alfredo Guevara at the Karl Marx Theater.

The opening ceremony was attended by Cuban government leaders including Culture Minister Abel Prieto and other cultural personalities like Miguel Barnet, president of the Association of Cuban Writers and Artists; Nobel Literature prizewinner Gabriel Garcia Marquez and singer songwriter Silvio Rodriguez

Guevara told the audience at the inauguration that this year's festival has a special connotation due to the transformations on the economic model that are going on in the country.

The show featured the performance of Cuban musicians Hernan Lopez-Nussa (piano player), Yandy Martinez (bass) and Enrique Pla (drums) who played fragments of a Cuban jazz song titled Sacrilegios.

There was also a dance group Santa Amalia that performed a choreography inspired on the music by Ignacio Cervantes.

The gala closed with the screening of the film Revolucion made by 10 young Mexican filmmakers who put together short-feature movies shot by each of them to show their respective views of the Mexican revolution.