---
Havana International Book Fair begins this Thursday
2019-02-07 14:41:31 / web@radiorebelde.icrt.cu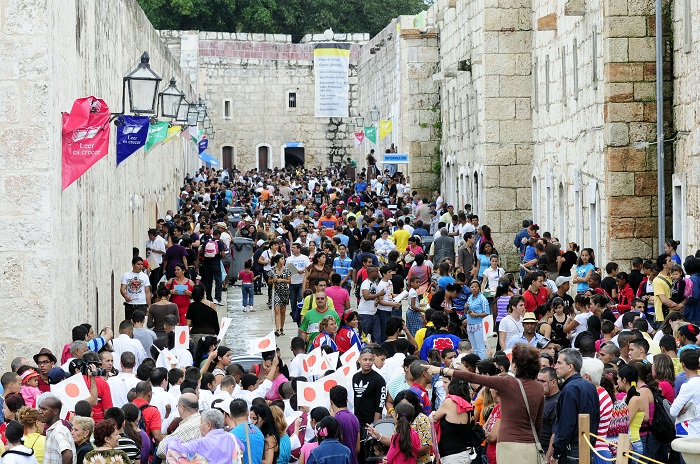 The 28th Havana International Book Fair (FIL), Cuba 2019, will begin this Thursday at 6 p.m., in an official act that will take place in the Artilleros Street of the San Carlos de La Cabaña fortress, the main venue of the event in Havana.

At the end of the inauguration, there will be the opening of the stand of the Guest of Honor Country, the People's Democratic Republic of Algeria, which arrives in Cuba represented by a delegation of 31 intellectuals and 200 titles, as well as numerous and attractive cultural proposals, stands out in the program of this first day.

On this date, the III International Meeting of Poetry Promoters will also begin, in homage to the late Cuban poet Carilda Oliver Labra, in the House of Poetry of the Artistic and Literary Lyceum of Havana.

Starting in the morning, important squares and parks of the capital will open fairs for the sale of books and in the Calle de Madera of the Arms Square the renowned Cuban singer-songwriter Erick Méndez will perform, with the concert Mi guitarra sigue sonando (My Guitar Continues to Play).

This Fair will take place in various cultural venues in Havana until February 17, and then tour the country with a valuable program of literary meetings, academics, professionals, presentations of texts, magazines and digital products.

In this 28th edition, dedicated to the National Prize for Editing (2001) and Literature (2014), Eduardo Heras León, some 380 guests and 127 exhibitors from 44 countries will participate, including Bulgaria and Viet Nam with their first participation in the Cuban event.

The more than four million books that will be on sale, the reopening of the Paper Treasure Pavilion in its former headquarters in La Cabaña, as well as the new spatial design of the areas within the imposing enclosure, for the comfort of visitors and participants, stand out among the more than 800 novelties promised by the fair.

The event will also be added to the tributes for the 60th anniversary of the Triumph of the Cuban Revolution and the 500th anniversary of the foundation of the village of San Cristóbal de la Habana.

(ACN)

Radio Rebelde. 23 # 258 % L y M. Vedado. Plaza de la Revolucion Havana City, Cuba CP. 10400. Principal Editor: Pablo Rafael Fuentes de la Torre. Webmaster: Mabel Peña Styo. Journalist: Liannis Mateu Francés - Laura Barrera Jerez.Photojournalist: Sergei Montalvo Arostegui. Comunity Manager: Alejandro Rojas. Assistant: Adriana Glez Bravo. Developed by Radio Rebelde Web Team
General Director: Frank Aguiar Ponce.
Phone numbers: (53) 7 838-4365 al 68 (Cabin) (53) 7 839-2524 (Public Relations).
© Copyright Radio Rebelde, 2015