---
Havana to Host Annual Meeting of the Sao Paulo Forum
2018-06-09 09:01:47 / web@radiorebelde.icrt.cu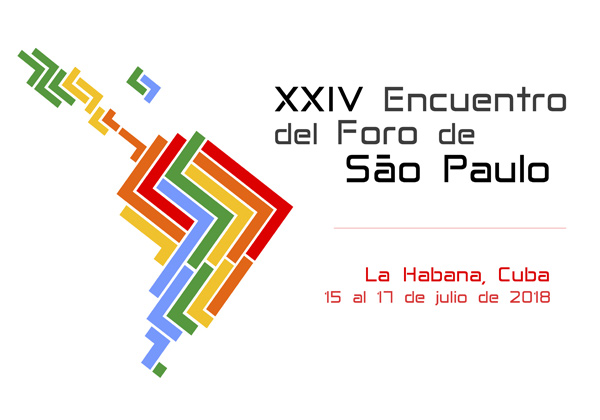 Havana will host the 24th Annual Meeting of the Sao Paulo Forum from July 15th to the 17 th with the participation of the region's left parties and progressive movements.

The Cuban Communist party organized the Forum's meeting in compliance with the commitment made in Managua, Nicaragua in 2017. According to the Head of the International Relations Department of the Cuban Communist Party Jose Ramon Balaguer, the meeting constitutes an internationalist political commitment for Cuba.

Balaguer said in a letter addressed to the members of the Sao Paulo Forum that this is the moment to unite ideas and efforts to stop the current counterrevolutionary offensive of the right in the region and the world.

The right wing offensive has been against all the political experiences in recent years, which one way or another favored the sovereignty of Latin America and Caribbean, integrated and just, he said.

The Sao Paulo Forum makes up Latin American Parties, left wing groups and social and progressive movements founded by Brazil's Workers Party and adapted the name of the city that first held the event, Sao Paulo in 1990.

That first meeting, thanks to the shared ideas of the leader of the Cuban Revolution Fidel Castro and Brazil's Luiz Inacio Lula da Silva –then leader of the Workers Party and future Brazilian President at the time, have demonstrated the movement's importance.

Jose Ramon Balaguer said that this is the time to defend the important achievements treasured by the left wing and progressive forces in the region during the last 20 years.

The Cuban leader added that the 24th Encounter will be a perfect space to evaluate how to transform the setbacks occurred in recent years and make them victorious battles in the region.

Balaguer concluded the note by saying that we await everyone in Havana.

Commander in Chief Fidel Castro said during the closing of the 4 th Encounter of the Sao Paulo Forum in Havana, on July 24th , 1993: "what more can we do, what more can the left in Latin America do but to create consciousness in favor of unity? That should be written on the flags of the left wing. With or without socialism".

In addition, he concluded: "those that think that socialism is a possibility and want to fight for socialism, but even those that cannot conceive socialism, even like the capitalist nations, but we would never have a future without unity or integration".

Unity and integration are two issues that after 25 years continue to be a guide and main concern of the Sao Paulo Forum.




(ACN)

Radio Rebelde. 23 # 258 % L y M. Vedado. Plaza de la Revolucion Havana City, Cuba CP. 10400. Principal Editor: Alejandro Rojas Espinosa. Webmaster: Mabel Peña Styo. Journalist: Liannis Mateu Francés - Yaicelín Palma TejasPhotojournalist: Sergei Montalvo Arostegui. Assistant: Adriana Glez Bravo. Developed by Radio Rebelde Web Team
General Director: Frank Aguiar Ponce.
Phone numbers: (53) 7 838-4365 al 68 (Cabin) (53) 7 839-2524 (Public Relations).
© Copyright Radio Rebelde, 2015