---
HD images of the first explosion of an atomic bomb are spread
2019-03-19 10:42:13 / web@radiorebelde.icrt.cu / Translated by: Aylen Lesmes Bonachea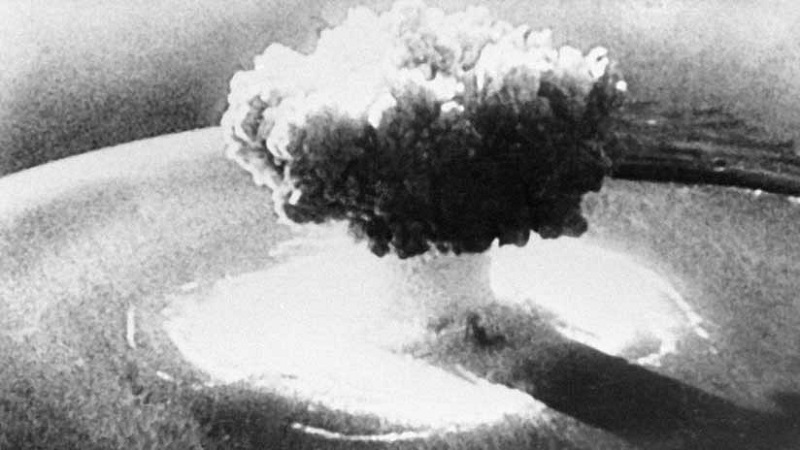 Atom Central web site published a video with newly restored and re-mastered images of the explosion of the first atomic bomb that was launched by United States in 1945 as part of test.
The sharpness of the images of the Trinity bomb detonation, the first in the history, were obtained thank to the elimination of the dirty and scratches, besides of minimizing some defects in the processing of the negative of the original recording, it was written by the authors of the restoration.
In this clip the detonation of this nuclear weapon that produced an intense flash and a fire ball that expanded 600 meters in two seconds can be seen.
The test of Trinity was carried out at 05:30 in the morning in July 16th of 1945 by the government of the United States in a desert of New Mexico. The power of the detonation was equivalent to 18,6 kilotons of TNT and with this explosion the nuclear era was inaugurated.

By: International Editorial Staff

Radio Rebelde. 23 # 258 % L y M. Vedado. Plaza de la Revolucion Havana City, Cuba CP. 10400. Principal Editor: Alejandro Rojas Espinosa. Webmaster: Mabel Peña Styo. Journalist: Liannis Mateu Francés - Yaicelín Palma TejasPhotojournalist: Sergei Montalvo Arostegui. Assistant: Adriana Glez Bravo. Developed by Radio Rebelde Web Team
General Director: Frank Aguiar Ponce.
Phone numbers: (53) 7 838-4365 al 68 (Cabin) (53) 7 839-2524 (Public Relations).
© Copyright Radio Rebelde, 2015