---
Help of Cuba, Venezuela and Brazil to Haiti Appreciated
2010.01.29 - 10:31:20 / web@radiorebelde.icrt.cu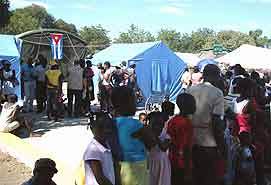 CAMAGUEY, CUBA.- The community of Haitians and their descendants living in the eastern Cuban province of Camagüey, expressed their appreciation for the help and solidarity given to Haiti, especially by Cuba, Venezuela and Brazil.
Adolfo Machado Dimanche, head of the community of over 30,000 members, pointed out that these three states were the first ones to help the population of Port-au-Prince, the Haitian capital, severely damaged by an earthquake on January 12, which caused more than 150,000 deaths.
Doctors and first-aiders worked immediately and without a moment's rest with all their love, in order to offer relief and health to the wounded, he expressed.
He added that the members of the community of immigrants are willing to go to Haiti any time to cooperate in the task of rebuilding their country of origin.
Machado Dimanche said that the community is concerned about the arrival of a large number of US soldiers to that Caribbean island with the pretext of normalizing the situation.
He recalled that in 1915 US troops landed in Haiti to supposedly pacify the country, and occupied it for 19 years, leaving a trail of death, ignorance, poverty, lack of organization and a debt it has paid many times and still owes.
The world public opinion has to be on the alert with that military presence in Haiti, because we don't know the intentions of the United States with their troops there, he stressed.
In addition, the community demanded US President Barak Obama to erase Cuba from a supposed list of nations that are promoters of terrorism, because it's actually a humanitarian state in solidarity, and its contribution gets everywhere in an unconditional and speedy way

(ACN)

Radio Rebelde. 23 # 258 % L y M. Vedado. Plaza de la Revolucion Havana City, Cuba CP. 10400. Principal Editor: Pablo Rafael Fuentes de la Torre. Webmaster: Mabel Peña Styo. Journalist: Liannis Mateu Francés - Laura Barrera Jerez.Photojournalist: Sergei Montalvo Arostegui. Comunity Manager: Alejandro Rojas. Assistant: Adriana Glez Bravo. Developed by Radio Rebelde Web Team
General Director: Frank Aguiar Ponce.
Phone numbers: (53) 7 838-4365 al 68 (Cabin) (53) 7 839-2524 (Public Relations).
© Copyright Radio Rebelde, 2015