---
Hotel Paseo del Prado, A Boat on Land
2019-05-17 07:34:53 / web@radiorebelde.icrt.cu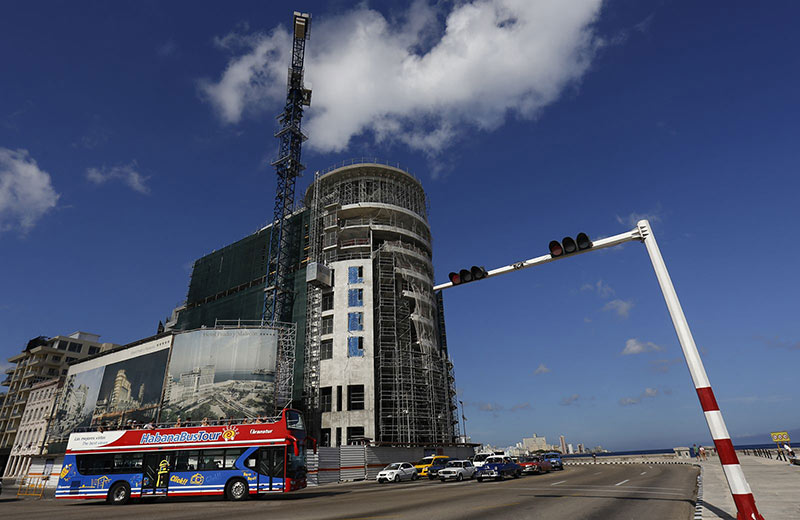 At the entrance to the Havana Bay stands the Paseo del Prado Hotel, a 36-meter-high building with a novel design that imitates the bow of a boat.

With 250 rooms, the five-star plus facility will soon open its doors to satisfy the most demanding tastes.

Built at the central intersection of Prado and Malecon, the Gaviota building will be managed by the French company Accor and is located on one of the most famous and crowded promenades in the Cuban capital.

The hotel will have 10 levels staggered in 17, 24 and 36 meters, and facades with large windows of glass, as well as a colorful viewpoint from which could be observed the Havana boardwalk and a wide panorama of the city, which this year celebrates its 500 years of founding.

From the top floor, guests can enjoy the views of the Castle of the Three Kings of the Morro and the fortresses of San Salvador de la Punta and San Carlos de la Cabaña, which were part of the defense circuit of the city during the colonial period.

(PL)

Radio Rebelde. 23 # 258 % L y M. Vedado. Plaza de la Revolucion Havana City, Cuba CP. 10400. Principal Editor: Alejandro Rojas Espinosa. Webmaster: Mabel Peña Styo. Journalist: Liannis Mateu Francés - Yaicelín Palma TejasPhotojournalist: Sergei Montalvo Arostegui. Assistant: Adriana Glez Bravo. Developed by Radio Rebelde Web Team
General Director: Frank Aguiar Ponce.
Phone numbers: (53) 7 838-4365 al 68 (Cabin) (53) 7 839-2524 (Public Relations).
© Copyright Radio Rebelde, 2015