---
Hungarian Specialists Visit local Irradiation Food Center
2017-06-22 06:24:03 / web@radiorebelde.icrt.cu / Translated by: JC Caballero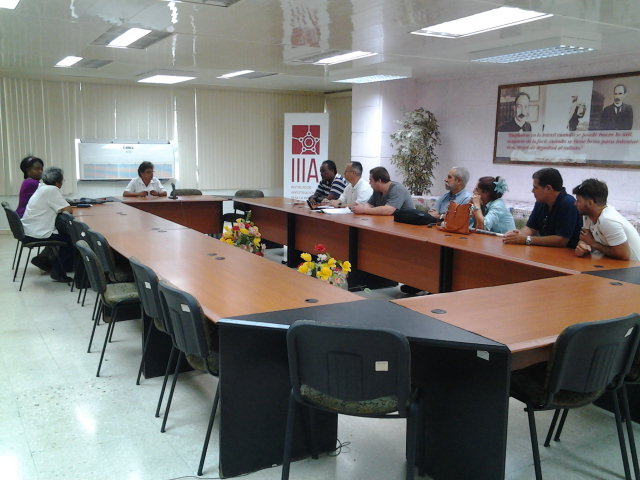 Imre Madar and Tibor Szabó, who is the vice director of the Business Center for Technical Radiation of the Isotopes Institute, visited the Institute for the Food Industry in order to start that center.

Accompanied by other officials from the Cuban Nuclear Energy and Advanced Technology center, they were received by the director of the research center, Lourdes Lourdes Valdés Fraga, who made a brief characterization of that center, as well as about its work in the Food Ministry Industry.

Ramón Rodríguez, who is the engineer and specialist in Science and Technological Innovation, commented to the Hungarian colleagues that the center was unique and the only one in the nation and that it was included in the national Mejoramientos de los Servicios de Radiaciones project (Improvement of Radiations Services one) due to its importance in Cuba.

"Right at this moment, we have pointed out the details about the center´s technical running equipment while waiting for the arrival of the source to reactivate it." He said.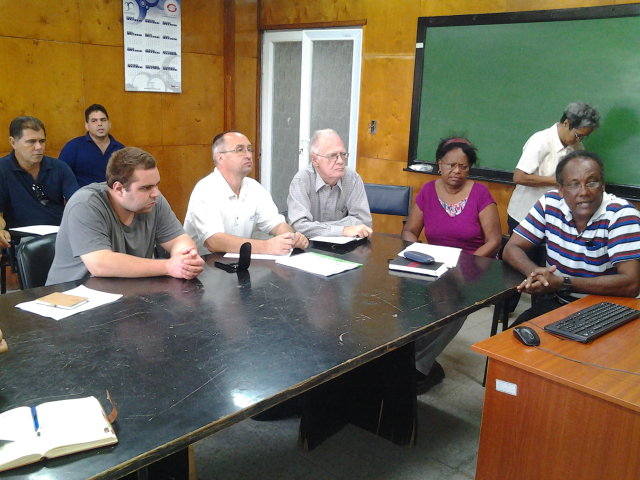 Likewise, this project started in 2012 with the objective about promoting the radiation services in important sectors for the nation´s economics.

In this case, the Research Institute for the Food Industry has a related center to irradiate the food in order to increase its life span.

While talking to foreign specialists, PhD. Soledad Mercedez Bolumen Martí, also valued that this visit was of great importance for the institute given the specialists comes to certificate the equipment to wait for the installation of the radiation source that will be brought from Russia in the local summer period.

"This is one of the procedures which is part of the buying process of the source that is essential to start the irradiation center and we shall proceed to wait for that source from Russia if this visit brought good results. "Soledad Mercedez Bolumen Martí said.

"Likewise, the operators are being trained constantly and they will go to Vietnam in September to get a training about the modern technology installed in that center." Soledad Mercedez Bolumen Martí said.
Hungarian specialists are visiting the center.

The Nuclear Energy and Advanced Technologies Agency is the responsible for generating and providing the knowledge, services and related products with the nuclear technology and other technologies linked to the nation´s sustainable development.

The Isotopes Institute is based on Budapest in Hungary and its work is about the researching, development and radioactive isotopes production and other ones for a wide range of applications, especially in the health sector and the related industry.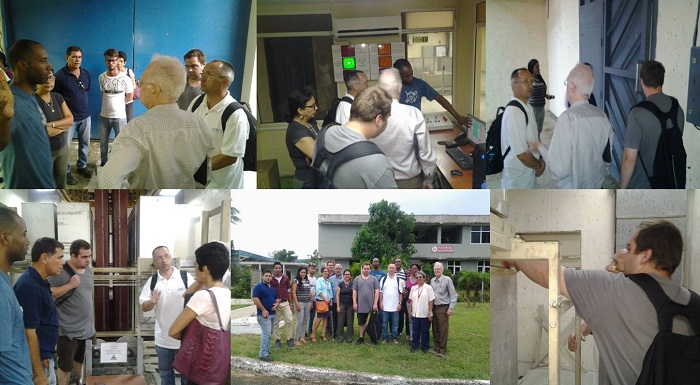 Founded in 1959 by the National Commission of the Atomic Energy, the Isotopes Institutes of the Sciences Academy started its production of radioactive isotopes in 1964 and it became the nation´s most important center for the research, development and manufacturing of related products with radioisotopes and their applications.

Since 1993, the local branches such as the ones named Radiofarmacia, Inmunoensayo, Síntesis y Tecnicas de las Radiaciones, began to work as the Limited Company of Isotopes Institute.

The Isotopes Institute is present not only in national market but also in the international one with its products and services. It also organize the logistical, customs and transportation services for the client, along with a higher accuracy, speed and flexibility.

Its work is about providing the radioactive and alternative technologies and representative services for the scientific and technical development at present time, which could be used safely.

By Isel Quintana Freyre

Radio Rebelde. 23 # 258 % L y M. Vedado. Plaza de la Revolucion Havana City, Cuba CP. 10400. Principal Editor: Pablo Rafael Fuentes de la Torre. Webmaster: Mabel Peña Styo. Journalist: Liannis Mateu Francés - Laura Barrera Jerez.Photojournalist: Sergei Montalvo Arostegui. Comunity Manager: Alejandro Rojas. Assistant: Adriana Glez Bravo. Developed by Radio Rebelde Web Team
General Director: Frank Aguiar Ponce.
Phone numbers: (53) 7 838-4365 al 68 (Cabin) (53) 7 839-2524 (Public Relations).
© Copyright Radio Rebelde, 2015