---
I still have the capacity of inspire myself
2017-10-19 10:22:05 / web@radiorebelde.icrt.cu / Translated by: Aylen Lesmes Bonachea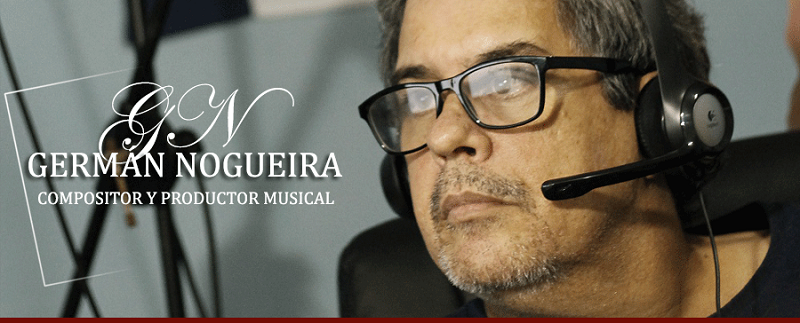 The first time Germán Nogueira composed a song, he was sixteen years old. It was in 1977 and the title of that song was "Unique". One day I asked to Germán if that song was made by him to a loved woman and he told me: "What a question Yoelito. You won't believe it, but at that time I was more abstract in everything and I made that song just for writing a song and begin in this matter".

And he explained to me that the first listened song, professionally, was "I ask you" which was sang by Pablo Rosquet in "Everybody sings" of 1984.

Forty years after the beginning of your career as a composer, this 2017, and a few days before turning fifty six years old, do you have the same creative vigor than times before?
I still have the capacity of inspire myself and having the motivation of creating songs according to my taste, according to the singers' taste and of course according to the audience who listen them, as they tell me. And evidently, I am always trying to approach to the current musical situation without losing the sense and the essence of creation. And for that I have a great family that supports me and true friends, which are necessary for continue.

For you what is the value of the songs composed by your own?
My songs are my reality; they are my past and my present. My mood, my hope and all my feeling and also others' one are inside them.

Are your secrets and musical inspirations known by too much persons?
Apart from my family who knows about my daily work, it is not normal that people know concerning the process of my songs; but when it is made for specific artists, I show them some moments of that creation. My secrets and my inspiration are known by few people, although somebody could confuse or proclaim that knows everything about me. I respect that affection, but for rule, not always I say everything.

What do you think about the diffusion made by the Cuban media to your songs and artists during all this years?
Since many years I feel really happy due to the labor done by the radio with my work. People who works in that media, they always support my work and of course, my singers.

Is there rivalry among the composers? How do you assume it?
I believe that the rivalry is dictated by the media. When a composer and a producer work in a line, they always will be in the battle. I assume the rivalry, trying to apart me less from my work style. Truly I don't compete; I just protect and take care of my work. My goal is the recognition to those who sings and listen to my songs.

Are the relationships between you and your singers good?
It is necessary it would be like that if we want a stable work. Knowing in a close way the characteristics of the people who work with me helps me to do convenient songs for ones and others musicians.

But, why do you prefer working with young singers?
I prefer all the singers, without exception, what occurs is that the young people are the future, by logic and of course they need more songs and to forge their history. I trust in the youth one hundred percent. We just have to say them what to do and insist, we cannot suppress or punish them because of their mistakes.

And the fact of the most of your singers being women have not brought problems for you?
As a consequence of my beginnings in the new ballad during the years 1989-1990 with Donato Poveda and Anabell López, a dramatist and psychologist friend use to tell me that the way in which Anabell projected and sang my songs was special, and it was not due to her being a great singer, but because the texts and the melodies fixed very well to her.

Afterwards, as a result of the difficulty of finding male soloists who promote the romantic music, I continued appealing to the female voices and till now a huge number of them sings my songs, and it is really true, that everything seems to be good with me.

Which have been the reasons of your possible disappointments in the musical composition?
I have had a lot of reasons, and I suffered, above all for being innocent. And, it still happens to me.

I imagine that some artist has not been what you have wanted or you have felt disappointed…
I always try to fulfill my goal and I give to each one of the artist who works with me, what I can with the same passion. I always feel sad with the defeatist and manipulative person, because they have been persons with fears, saying the truth. However, I always look for the good side and I try to keep the best thing of all them in my mind and my heart.

My concern is that the people who sing my songs accomplish their roll and they could be rewarded for what they do. I am not behind the credits. I fight and defend my singers' recognition. I try to keep my friendship with all my singers although my best friends are not exactly in the art.

But during these forty years, I imagine you have a prefer artist with whom you have worked closer, in a more comfortable and sincere manner…
I admire to all of them, but my affect for Anabell López, Mabel and Jenny Sotolongo is not a secret. The reason is that in all the cases, they always identified themselves with my songs and they made them theirs. Nevertheless, there are others which are occupying an important place in my life. I guess that in few years I could mention others.

Do you have any prefer song within your authorship?
It would be false to mention some of them. Some of them have marked guidelines in my life and others, have not even being listened in the media, but they make me feel a great satisfaction.

Even so, the song "I am from Cuba" singer by Verónica Velázquez it is being listening nowadays. It is a special song for you?
It is not my style of song; I like the ballad, the pop and the romantic song in any style. I am from Cuba is a chronic of how I see Cuba today, from my viewpoint, without searching in symbols beyond the reality. I feel that a lot of people perceive it in that way. My commitment with the song is to express my vision and because of the achievement of that goal I am satisfied.

Your birthday was in the past October 8th, and it coincided with the Che's death anniversary. I see much of him in your studio. Why the special rapprochement towards Che?
I was born listening about him and I grew up like that. I have a song that reflects something about what I think regarding his story. Che is an admirable person, unique and necessary in these times. I could say a lot to you. I celebrated many of my birthdays in my life the day nine, because due to the coincidence with the day of Che's death, they did not make birth party to me. They never obligate me to know about him, it was the curiosity that made me read and read, listen to songs about the theme, about his fight, and it was how I began to value him and make him my friend without he knew about it. Pure fantasy, but it has served a lot to me.

If I would like something, it is that songs about him would be written, but with current concepts, respecting the rhetoric, and that those songs could be more functional for the current and the coming generations. I believe that, if we want to continue being a sovereign country, Che has to continue in the vanguard of our message. We cannot wear ourselves down with the same history. The young people need to feed from it, with the current concept and it is not a secret that Che is still in force, and he will be.

By: Yoel Almaguer de Armas