---
Intense Diplomatic Agenda of Cuban Delegation to Pacific Forum
2018-09-05 09:45:44 / web@radiorebelde.icrt.cu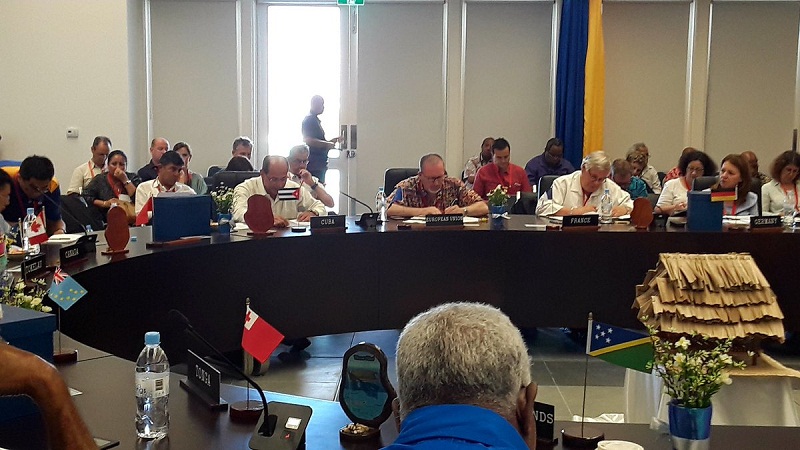 Cuban Deputy Foreign Minister Rogelio Sierra continues his intense working agenda as part of the sessions of the Forum of Leaders of the Pacific Islands underway in the Republic of Nauru.

According an article in the CubaMinrex website, the Cuban diplomat spoke on Tuesday in a segment reserved for the Dialog Partners with the Leaders where all the Heads of island delegations and other guests participated.

The Cuban representative held bilateral talks with the President of Nauru, Baron Divavesi Waqa and Health Minister Charmaine Scotty.

Sierra Diaz also met with the Prime Minister of Niue, Sir TokeTufikia Talagi, the Foreign Minister of Papua New Guinea, Rimbink Pato and the head of the delegation of the People's Republic of China and Special Envoy to the Forum, Ambassador Du Qiwen.

The Cuban Deputy Foreign Minister headed the island's delegation to the Forum, constituting the most important multilateral event of the Small Island States of the Pacific.

(ACN)

Radio Rebelde. 23 # 258 % L y M. Vedado. Plaza de la Revolucion Havana City, Cuba CP. 10400. Principal Editor: Alejandro Rojas Espinosa. Webmaster: Mabel Peña Styo. Journalist: Liannis Mateu Francés - Yaicelín Palma TejasPhotojournalist: Sergei Montalvo Arostegui. Assistant: Adriana Glez Bravo. Developed by Radio Rebelde Web Team
General Director: Frank Aguiar Ponce.
Phone numbers: (53) 7 838-4365 al 68 (Cabin) (53) 7 839-2524 (Public Relations).
© Copyright Radio Rebelde, 2015