International Colloquium in Havana for Bicentennial of Independence
2010.02.08 - 16:12:47 / ACN
---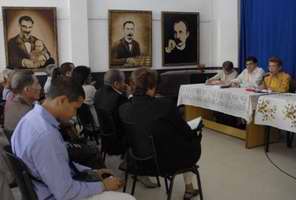 HAVANA, Cuba. - An international colloquium, named "A propósito del bicentenario: 200 años de historia y cultura" (On the occasion of the bicentennial: 200 years of history and culture) was held at the Fragua Martiana museum in this capital.
Sponsored by the International Workshop "Bolívar, Martí, Sandino", during the event the participants discussed on the necessity of commemorating this historical date as the starting point for the second and definite independence dreamt by the great Latin American and the Caribbean national heroes.
Nicaraguan Manuel Moncada warned on the challenge that the most needed unity of our peoples means, in a world where the danger of the species extinction is a terrible reality.
Nowadays, the Latin American economic thinking is going through a very positive development, using advanced integration models, like the Bolivarian Alliance for the Peoples of Our America (ALBA), stressed Rolando Ruiz, Havana University's professor.
Vladimir Aguiar, from the Los Andes University, Venezuela, pointed out that capitalism is the cause for every ill affecting our peoples, and that the second independence goes through the 21st century social revolution, which several nations in the region are already fighting for.
This workshop aims at bringing light on the independence process and its validity, in order to assess achievements and pending issues.