---
It is confirmed the presence of a giant African snail in Villa Clara
2018-08-16 14:02:59 / web@radiorebelde.icrt.cu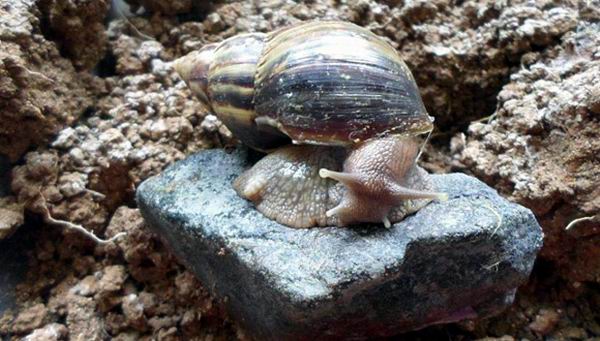 The presence of the giant African snail, considered as one of the most dangerous invasive species of the planet, was confirmed in the Placetas locality, in the center Cuban province of Villa Clara, the Cuban News Agency publishes.

This situation was announced to the press by Nerelys Dorta, biologist and master in infectious diseases of the Municipal Direction of Hygiene and Epidemiology in Santa Clara.
She said that in the Pedro Kourí Institute of Tropical Medicine (IPK) confirmed the dictum from a research about neighbors' denounces which pleaded the presence of a very big snail in flowerbeds and gardens.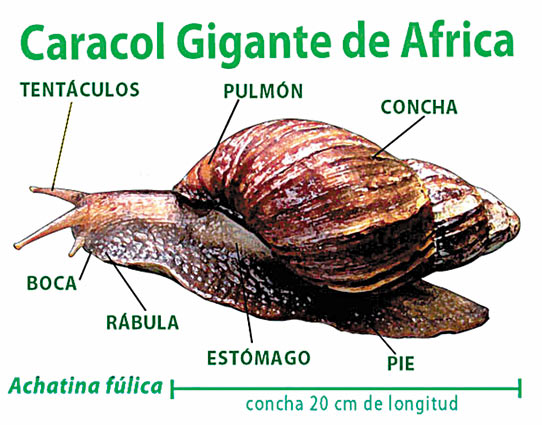 In the territory there are 26 blocks infested by the invasion of the slugs, in accordance with field studies, the experts adds that the phytosanitary measures for its control and elimination have being adopted.

The giant African snail is catalogued as one of the 100 invader species most dangerous of the world, based on the list elaborated by the International Union for the Nature Preservation.

According to the scientific literature it presents an accelerated body increase, its diet is integrated by more than 200 kinds of plants, among them, citric, coconut, banana, rice, vegetables and ornamental, besides from organic material in decomposition, it has also a high reproductive potential that favors its dispersion.

By: Digital Department
Translated by: Aylen Lesmes Bonachea

(RRebelde)

Radio Rebelde. 23 # 258 % L y M. Vedado. Plaza de la Revolucion Havana City, Cuba CP. 10400. Principal Editor: Alejandro Rojas Espinosa. Webmaster: Mabel Peña Styo. Journalist: Liannis Mateu Francés - Yaicelín Palma TejasPhotojournalist: Sergei Montalvo Arostegui. Assistant: Adriana Glez Bravo. Developed by Radio Rebelde Web Team
General Director: Frank Aguiar Ponce.
Phone numbers: (53) 7 838-4365 al 68 (Cabin) (53) 7 839-2524 (Public Relations).
© Copyright Radio Rebelde, 2015