---
Italian authorities praised work of Cuban health collaborators
2020-04-06 11:27:53 / web@radiorebelde.icrt.cu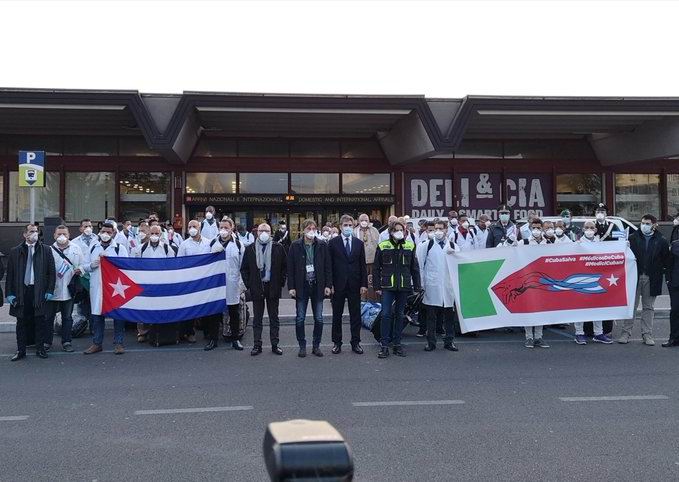 The presence in Crema of 52 Cuban health collaborators to help combat COVID-19 reinforces the confidence of residents in that northern Italian city in order to overcoming the health emergency as soon as possible.
Emanuela Nichetti, secretary of Culture and Tourism of the municipality of about 34,000 inhabitants belonging to the Lombardy region, told Prensa Latina that ¨they felt relieved when the Cuban brigade arrived in the town as they were at the limit of their strengths. '
The 36 doctors, 15 nurses and a logistics specialist were warmly welcomed by the local authorities who provided them with clothing suitable for low temperatures of the region after their arrival last March 22.
Nichetti talks excitedly about the experience in the city with the Cuban collaborators, whose arrival "was a hope and made us see the light again, because the situation was deteriorating as many of our doctors and nurses were getting sick."
¨Finding people who come from another part of the world risking their lives, moving away from their families, from their homes, in the name of a high ideal, is an important thing that we value the most, ¨Nichetti noted.
Knowing that 'health, education and love for culture are strong points of Cuban society' and impressed by the altruism of its doctors and nurses, she added that although she does not like to travel by plane, when this nightmare ends, she will visit the Caribbean island but with the fear of wanting to stay there.

(ACN)

Radio Rebelde. 23 # 258 % L y M. Vedado. Plaza de la Revolucion Havana City, Cuba CP. 10400. Principal Editor: Alejandro Rojas Espinosa. Webmaster: Mabel Peña Styo. Journalist: Liannis Mateu Francés - Yaicelín Palma TejasPhotojournalist: Sergei Montalvo Arostegui. Assistant: Adriana Glez Bravo. Developed by Radio Rebelde Web Team
General Director: Frank Aguiar Ponce.
Phone numbers: (53) 7 838-4365 al 68 (Cabin) (53) 7 839-2524 (Public Relations).
© Copyright Radio Rebelde, 2015