---
Japanese Ambassador in Cuba Visits Agricultural Sites in Camaguey
2018-03-21 09:51:21 / web@radiorebelde.icrt.cu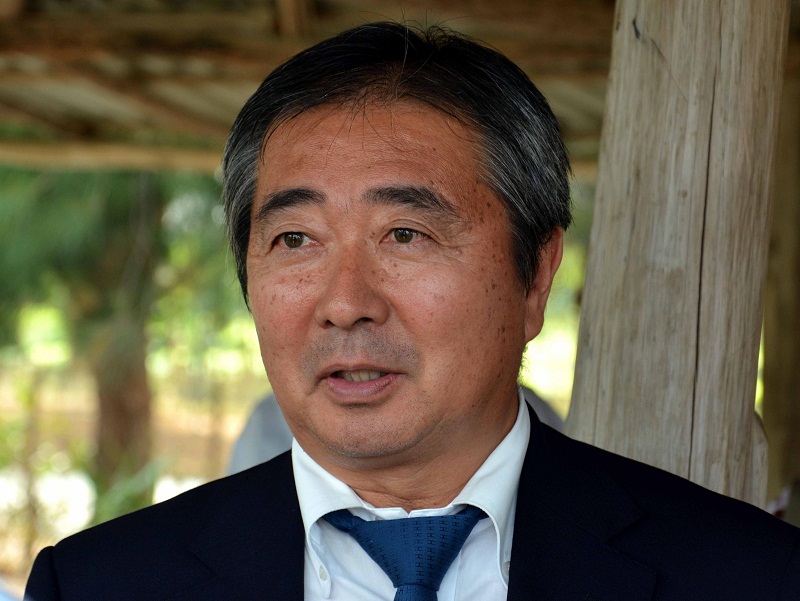 Japan's Ambassador to Cuba, Masaru Watanabe visited on Tuesday the city of Camaguey to inaugurate the development of three production and conservation of seeds projects in urban and suburban agriculture financed by the Asian embassy on the island.

The objective of the initiative is for the socio-economic development of the local communities and its inhabitants, said Watanabe and mentioned the cooperation between both nations in over 100 similar programs that make up the donation of high quality agricultural machinery.

He highlighted the importance in the increase of biological elements as an indispensable aspect to strengthen Cuban agriculture with the objective of hiking the productivity through agro-ecological practices and guaranteeing the protection of the cultivations.

In his tour through the Los Ranchos urban farm of the Agricultural and Animal Company in Camaguey where the project was in its validation stage during five years, the Japanese diplomat observed some of the almost 30 varieties of 10 vegetable species, fruits and others that were harvested.

He also saw the work of the machinery that was installed like a cold chamber for the conservation of seeds, four equipment to decontaminate and produce them, a water purifier and room to plant, grow and dry.


The Director of urban, suburban and family agriculture of the Ministry of Agriculture Office in Camaguey, Javier Rodriguez Guerrero said that over four thousand producers from the territory are benefited with the projects that allowed a harvest of over 91 tons of vegetables in 2017.

These programs allowed to obtain 790 kilograms of seeds in 2017, meaning an increase in the productivity that should continue this year to reach one thousand for its use in over 166 hectares, said Rodriguez Guerrero and added that the project will be expanded to benefit 11 farms in the province.

The Japanese ambassador expressed to the workers that improving the yield of the cultivation and increasing the rate of food efficiency will contribute in reducing the use of foreign currency for imports in the area.

He added that the development in the agricultural sector is a priority for the Cuban government and the countries that cooperate with the Caribbean island, according to what has been defined through dialog on economic cooperation with the Ministry of Foreign Trade and Investment.

The Japanese diplomat will continue his tour on Wednesday through Camaguey with a visit to the Patricio Lumumba community in the municipality of Sibanicu, to inaugurate a rehabilitation and maintenance project of the water supply system in the region.

By Yaniuska Macias Rivera


(ACN)

Radio Rebelde. 23 # 258 % L y M. Vedado. Plaza de la Revolucion Havana City, Cuba CP. 10400. Principal Editor: Pablo Rafael Fuentes de la Torre. Webmaster: Mabel Peña Styo. Journalist: Liannis Mateu Francés - Laura Barrera Jerez.Photojournalist: Sergei Montalvo Arostegui. Comunity Manager: Alejandro Rojas. Assistant: Adriana Glez Bravo. Developed by Radio Rebelde Web Team
General Director: Frank Aguiar Ponce.
Phone numbers: (53) 7 838-4365 al 68 (Cabin) (53) 7 839-2524 (Public Relations).
© Copyright Radio Rebelde, 2015