---
Japanese businessman reiterates interest in collaborating with Cuban health sector
2020-01-23 14:26:37 / web@radiorebelde.icrt.cu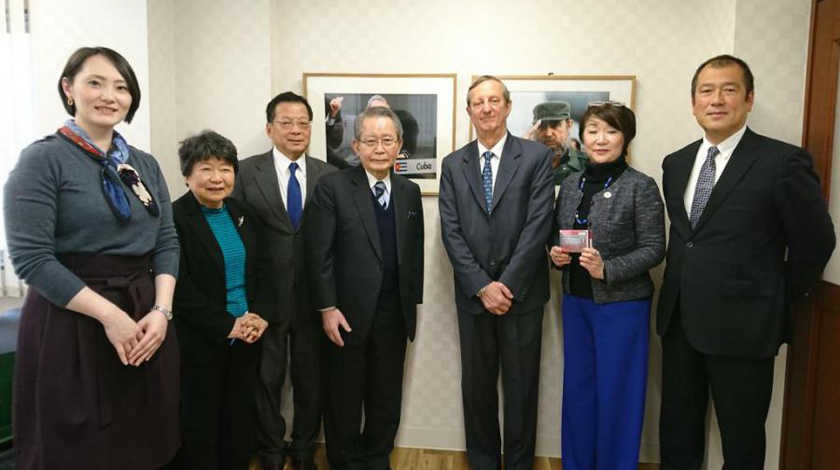 Japanese businessman Kenichi Matsumoto, chairman and CEO for the Matsumoto Global Wellness Initiative Foundation, reiterated his willingness to collaborate with Cuba's health sector.
In a meeting with Miguel Angel Ramirez, Cuban ambassador to the Asian country, Matsumoto expressed his interest in keeping and increasing the exchanges he has had for more than 40 years with Cuba, specifically with its public health services.
The businessman made his first visit to Cuba in 1978 and since then - according to his own expressions - he felt identified with the social project led by Commander Fidel Castro, which put into focus the well-being and health of the people, and guaranteed universal care by highly trained doctors who are aware of the patients.
With the intention of supporting such a remarkable effort, Matsumoto decided to create a fund at the disposal of the Latin American School of Medicine (ELAM), contributing to the professional training of new specialists in that prestigious center.
Ramirez thanked the Japanese businessman for his decades of friendship with Cuba, and recalled his significant contribution to make possible the Cuban production of Sakura Seiki autoclaves, as well as his commitment to spread through his Foundation the production and commercialization of Policosanol (PPG) in Japan.





(ACN)

Radio Rebelde. 23 # 258 % L y M. Vedado. Plaza de la Revolucion Havana City, Cuba CP. 10400. Principal Editor: Alejandro Rojas Espinosa. Webmaster: Mabel Peña Styo. Journalist: Liannis Mateu Francés - Yaicelín Palma TejasPhotojournalist: Sergei Montalvo Arostegui. Assistant: Adriana Glez Bravo. Developed by Radio Rebelde Web Team
General Director: Frank Aguiar Ponce.
Phone numbers: (53) 7 838-4365 al 68 (Cabin) (53) 7 839-2524 (Public Relations).
© Copyright Radio Rebelde, 2015