---
Local Computer Experts at I International Congress
2017-10-19 10:07:03 / web@radiorebelde.icrt.cu / Translated by: JC Caballero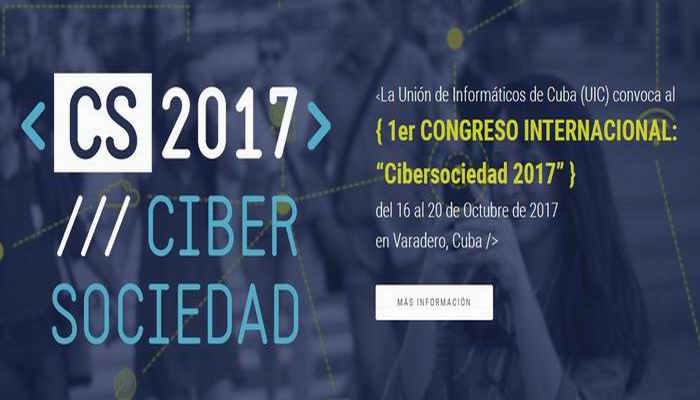 A fair as a space for socialization and the presentation of related solutions about mobile phones, videogames, citizen services, the computing applications and other products which contribute to the computerization of society, are part of the main objectives of the I International Cibersociedad Congress that is being carried out in Ciego de Ávila province in Cuba.

Having Matanzas city as its venue, the members of the Society of computer experts of Cuba (UCI), who are participating in that event that is being carried out from October 17 th through the 20th , will analyze the interaction among the different doers of the civil society of the local Computing Sciences technologies (TIC), as well as the opinions of businessmen, academicians and non-state-run workers.

The Congress´s program includes some open debates where the controversies about the local TIC professionals are being analyzed, as well as their interaction with the public. There is a debate about the gender equality, the innovation, ecosystems and other themes of interest for the TIC civil society.

Ciego de Ávila province is represented by 9 delegates who are part of the local UJC committee of DESOF and the Bioplantas Development center from their province. They have brought three presentations that are linked to the preparation of the computing technologies that is focused on the family, teaching, economics and how to contribute to the life quality through the automation.

Daryl Hernández Couce, who is the president of the local association of Computer specialists in Havana city, said to Radio Rebelde station that the first international meeting of associations of Cuban professionals would allow to exchange knowledge, related training, certification, members' related services, innovation, public polices and trade, among other topics of mutual interest.
By Luis Falcón Saavedra

Radio Rebelde. 23 # 258 % L y M. Vedado. Plaza de la Revolucion Havana City, Cuba CP. 10400. Principal Editor: Pablo Rafael Fuentes de la Torre. Webmaster: Mabel Peña Styo. Journalist: Liannis Mateu Francés - Laura Barrera Jerez.Photojournalist: Sergei Montalvo Arostegui. Comunity Manager: Alejandro Rojas. Assistant: Adriana Glez Bravo. Developed by Radio Rebelde Web Team
General Director: Frank Aguiar Ponce.
Phone numbers: (53) 7 838-4365 al 68 (Cabin) (53) 7 839-2524 (Public Relations).
© Copyright Radio Rebelde, 2015