---
Miguel Diaz-Canel on a Working Visit to Villa Clara
2018-08-31 11:17:58 / web@radiorebelde.icrt.cu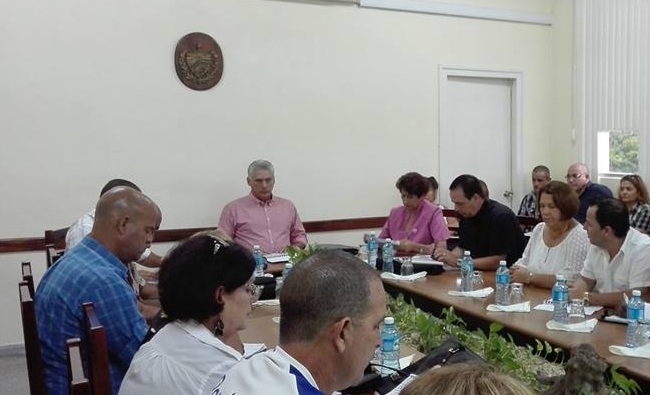 The President of the Council of State and Ministers, Miguel Diaz-Canel Bermudez highlighted on Thursday in Santa Clara the importance in complying with the economic plan with major effort and control, mainly in the sectors in the production of materials.

During a summary meeting of the governmental working visit to production and service centers Wednesday and Thursday in Villa Clara province, the Cuban Head of State said that it is necessary to grow in the production of material goods destined to the population and for exports.

The encounter held with the presence of the First Vice President of the Council of State and Ministers, Salvador Valdes Mesa; First Secretary of the Party in Villa Clara, Julio Lima Corzo and the President of the Provincial Assembly of the People's Power, Alberto Lopez Diaz also included the participation of several ministers and leaders of the province.

The President of the Provincial Assembly of the People's Power, Alberto Lopez Diaz, referred, in a summary report, to priorities in the province, like the reparation of roads affected by Hurricane Irma, the intense rains of Sub Tropical Storm Alberto, flooded areas, the control of sites where construction materials are sold, the fight against illegalities and the expansion of the capacities of the mini-industries.

The Agriculture Minister, Gustavo Rodriguez Rollero referred to the need to recover from the damages of the recent natural phenomena in the province, one of the most affected in the country and the importance to grow in the production of eggs and other agro productions.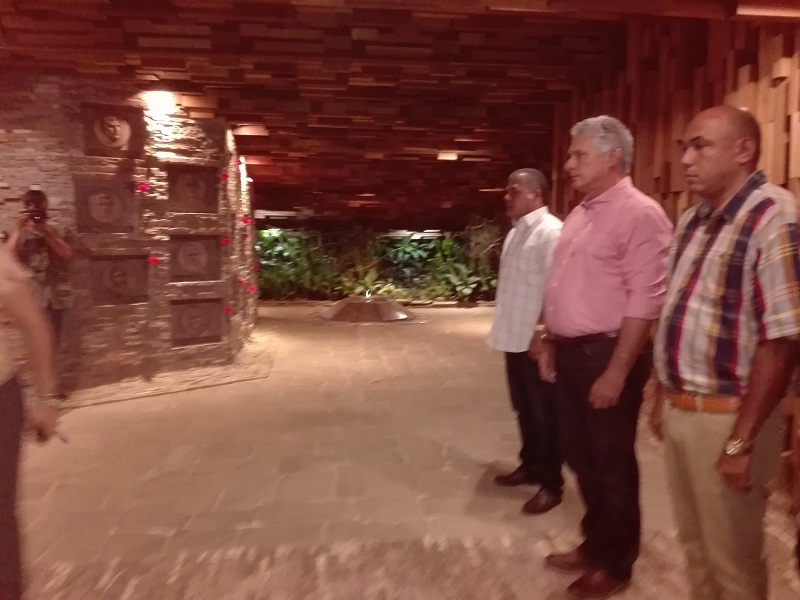 Among the main measures were the self-sufficient programs in the municipalities and the diversification of the crops like root vegetables, grains and fruits, with the application of science and technology in addition to the development of urban gardens.

Salvador Valdes Mesa highlighted the effectiveness of the governmental visits, which have allowed major contact with the workers, and the rest of the population as well as orienting the leaders in different sectors in compliance with the agreements and Guidelines of the 6th and 7th Party Congress.

Regarding preparations in the province for the upcoming sugar harvest, he said that they must advance efficiently in the repairs of the machinery and intensify the work of planting the sugar cane currently with delays in the territory.

Miguel Diaz-Canel and other members of the government delegation toured on Thursday the telephone plant in Santa Clara, affected by a fire last June 25th, and which the Cuban president received explanations on reestablishment of the radio base with new equipment.

The Central University of Las Villas, which has an enrollment of 10 thousand 763 students from 55 degrees in different specialties was another center of interest to visit in the province.

The Cuban President also visited the Ernesto Che Guevara Complex where he paid tribute to the Heroic Guerrilla.

(ACN)

Radio Rebelde. 23 # 258 % L y M. Vedado. Plaza de la Revolucion Havana City, Cuba CP. 10400. Principal Editor: Alejandro Rojas Espinosa. Webmaster: Mabel Peña Styo. Journalist: Liannis Mateu Francés - Yaicelín Palma TejasPhotojournalist: Sergei Montalvo Arostegui. Assistant: Adriana Glez Bravo. Developed by Radio Rebelde Web Team
General Director: Frank Aguiar Ponce.
Phone numbers: (53) 7 838-4365 al 68 (Cabin) (53) 7 839-2524 (Public Relations).
© Copyright Radio Rebelde, 2015