---
Minister Malmierca: Cuba offers equal treatment to American companies
2017-10-31 09:52:05 / web@radiorebelde.icrt.cu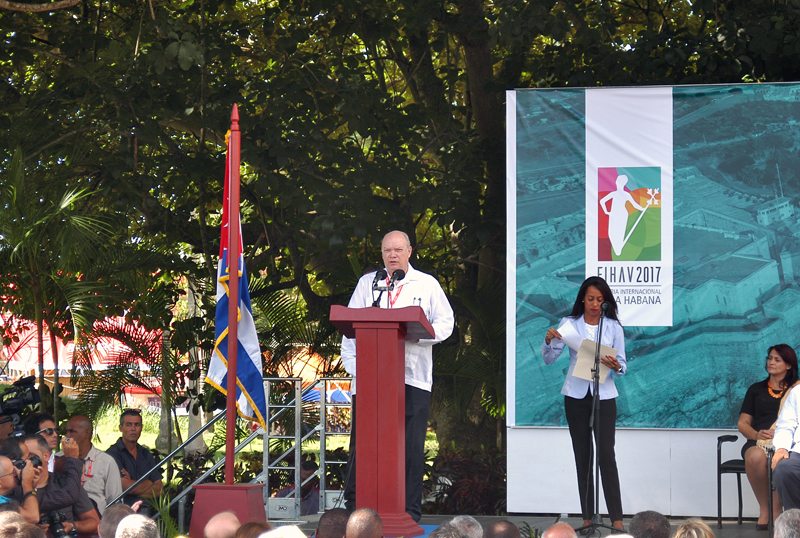 Cuban Minister of Foreign Trade and Foreign Investment, Rodrigo Malmierca, said ton Monday that Cuba grants the American business community the same facilities as the rest of the foreign companies willing to invest in the country.

After inaugurating on the opening day the Cuban pavilion in the 35 th International Fair of Havana, FIHAV 2017, Malmierca emphasized to the press that Cuba does not discriminate against any nation interested in establishing itself in this territory.

On the presence of US companies in the current Fair, Malmierca pointed out that this year less companies came, while questioned whether this is due to the resurgence of the US blockade, based on the new policy promoted by the administration of Donald Trump.

He said that this economic, commercial and financial siege of more than half a century represents a stumbling block for US entepreneurs to do business on Cuban soil and maintain normal relations with this country.

This year 16 US companies from sectors related to agriculture, food, industry, water treatment and reuse, maritime transportation services, and parcel and travel agencies, among others, are the sole representation of the world´s largest economy, despite the short distance between the two countries.

During the opening speech, Malmierca warned that the new policy announced by Trump on June 16, which contemplates the tightening of the blockade, ignores the interests of broad sectors of that nation, especially the business sector that remains eager to maintain commercial relations with Cuba.

He recalled that next Wednesday the Government of Havana will once again present before the General Assembly of the United Nations the report on the need to end the siege of Washington, a claim that is expected to receive the majority support of the international community, as usual since 1992 .

(ACN)

Radio Rebelde. 23 # 258 % L y M. Vedado. Plaza de la Revolucion Havana City, Cuba CP. 10400. Principal Editor: Pablo Rafael Fuentes de la Torre. Webmaster: Mabel Peña Styo. Journalist: Liannis Mateu Francés - Laura Barrera Jerez.Photojournalist: Sergei Montalvo Arostegui. Comunity Manager: Alejandro Rojas. Assistant: Adriana Glez Bravo. Developed by Radio Rebelde Web Team
General Director: Frank Aguiar Ponce.
Phone numbers: (53) 7 838-4365 al 68 (Cabin) (53) 7 839-2524 (Public Relations).
© Copyright Radio Rebelde, 2015