---
Omara Portuondo Opens Jazz Plaza in Santiago de Cuba
2018-01-19 09:31:56 / web@radiorebelde.icrt.cu
The 33rd Edition of the International Jazz Plaza Festival began on Thursday in Santiago de Cuba with a performance by the Diva of the Buena Vista Social Club, Omara Portuondo at the Marti Theater.

Omara Portuondo offered a memorable performance in which she demonstrated her musical talent interpreting themes that constitute jewels of Cuban music in a packed theater with people from all walks of life.

Omara Portuondo, 87 years of age, seduced the audience with her voice, danced with a unique Cuban identity that has taken her all over the world.

Omara is Cuba and having her open the Jazz Plaza in Santiago de Cuba was a blessing, said pianist Roberto Fonseca, President of the Jazz Plaza Festival that will include presentations from renowned figures in the genre in Cuba and the world like Maestro Bobby Carcasses and the US multi-instrumentalist and composer Ted Nash.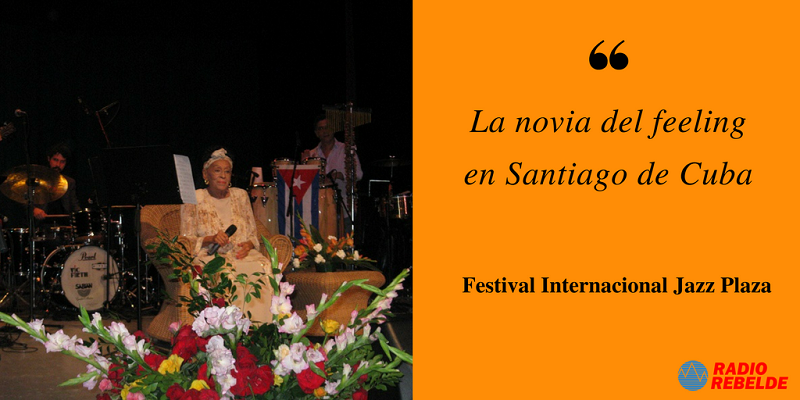 The Marti Theater, Iris Jazz Club and the branch of the Writers and Artists Association in Santiago will be the main venues of the festival with other greats like Zulema Iglesias, Giselle Lage, Carlos Miyares, Ivan Acosta and De Cuba Somos, Vocal con Paz Quintet and Okan Jazz.

The International Jazz Plaza Festival has been held in Cuba since 1980 at the initiative of Bobby Carcasses, is the most significant Jazz event in Cuba, and has been included among the leading countries in the development of this complex and fascinating genre.
By Leydis Tasse Magana

(ACN)

Radio Rebelde. 23 # 258 % L y M. Vedado. Plaza de la Revolucion Havana City, Cuba CP. 10400. Principal Editor: Pablo Rafael Fuentes de la Torre. Webmaster: Mabel Peña Styo. Journalist: Liannis Mateu Francés - Laura Barrera Jerez.Photojournalist: Sergei Montalvo Arostegui. Comunity Manager: Alejandro Rojas. Assistant: Adriana Glez Bravo. Developed by Radio Rebelde Web Team
General Director: Frank Aguiar Ponce.
Phone numbers: (53) 7 838-4365 al 68 (Cabin) (53) 7 839-2524 (Public Relations).
© Copyright Radio Rebelde, 2015