---
Oscar Lopez Rivera Receives the Mehdi Ben Barka Solidarity Order
2017-11-17 09:14:22 / web@radiorebelde.icrt.cu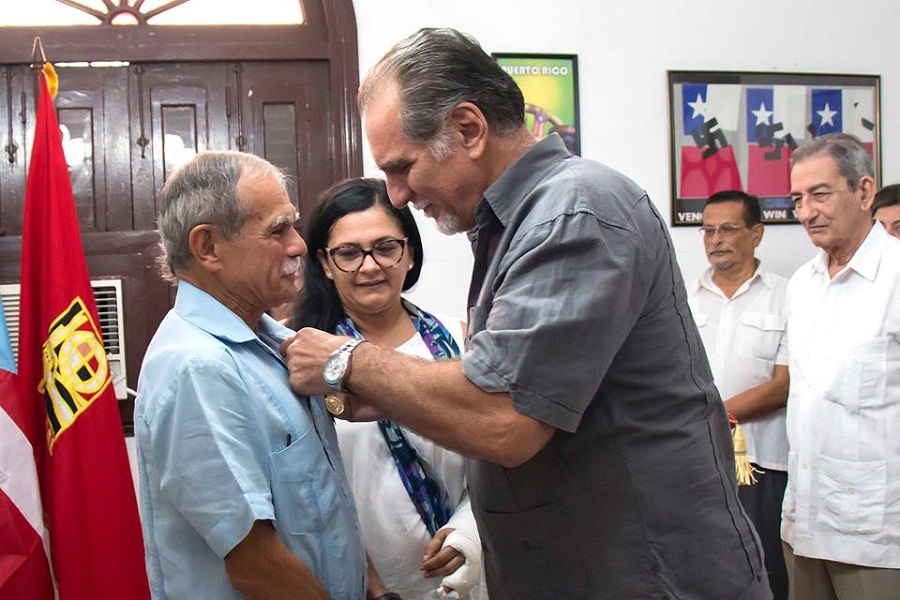 The Organization in Solidarity with the Peoples of Africa, Asia and Latin America (OSPAAAL) granted on Thursday in Havana the Mehdi Ben Barka Solidarity Order to Puerto Rican independence activist Oscar Lopez Rivera.

The Hero of the Republic of Cuba, Rene Gonzalez, Vice President of the Jose Marti Cultural Society officially gave Oscar the Order in an activity presided by the Head of the International Relations Department of the Central Committee of the Cuban Communist Party, Jose Ramon Balaguer Cabrera.

Lopez Rivera confessed that it is very significant for him to be present with representatives of three continents, because OSPAAAL "represents an achievement of those that love justice and freedom that know the need for a better and just world, free of the empire, wars, where justice and love can coexist".

It is necessary to continue forward because the struggle never ends and I expect some day to invite you to a free and sovereign Puerto Rico so you can feel at home, he said.

The General Secretary of OSPAAAL, Lourdes Cervantes said that the order was conferred during the week in solidarity with Puerto Rico underway in Cuba in September 2013 moment in which Lopez Rivera was still in prison and was received by his daughter at the Jose Marti Memorial.

She added that it is not necessary to explain why the exceptionality of the medal; the firm stance and heroic resistance of Oscar Lopez Rivera affirms the course towards victory of the Puerto Rican people.

This is Oscar Lopez Rivera's first visit to Cuba. He was unjustly imprisoned for almost 36 years for not making concessions to his ideals and never gave up, said Cervantes.

During the ceremony, Alex Sosa, member of the International Executive Secretariat of OSPAAL read the resolution of 2013 in which it explains the reasons for which they decided to grant Lopez Rivera the Mehdi Ben Barka Order.

The document says Oscar personifies decorum and the dignity of a nation that battles for its decolonization; he is a live symbol of Patriotic intransigence, modesty and tenacity.

The Heroes of the Republic of Cuba, Gerardo Hernandez and Fernando Gonzalez; Silvio Platero, President of the Cuban Peace Movement and Jorge Mayo representing the Ministry of Foreign Affairs were present in the ceremony.

Also members of OSPAAAL's International Secretariat from Puerto Rico, El Salvador, Chile, South Africa, Angola, Palestine, Syria, Korea and Vietnam, in addition to ambassadors and members of the diplomatic corps accredited in Havana.

The Mehdi Ben Barka Solidarity Order was instituted in 1986 by OSPAAAL's International Executive Secretariat to recognize relevant figures of Third World nations in their struggle for freedom, full decolonization, national independence, peace, economic development and social justice.
By Yohandra Maria Portelles Quevedo



(ACN)

Radio Rebelde. 23 # 258 % L y M. Vedado. Plaza de la Revolucion Havana City, Cuba CP. 10400. Principal Editor: Pablo Rafael Fuentes de la Torre. Webmaster: Mabel Peña Styo. Journalist: Liannis Mateu Francés - Laura Barrera Jerez.Photojournalist: Sergei Montalvo Arostegui. Comunity Manager: Alejandro Rojas. Assistant: Adriana Glez Bravo. Developed by Radio Rebelde Web Team
General Director: Frank Aguiar Ponce.
Phone numbers: (53) 7 838-4365 al 68 (Cabin) (53) 7 839-2524 (Public Relations).
© Copyright Radio Rebelde, 2015