---
Peruvian MPs homage Cuban Medical Brigade
2017-06-09 10:31:12 / web@radiorebelde.icrt.cu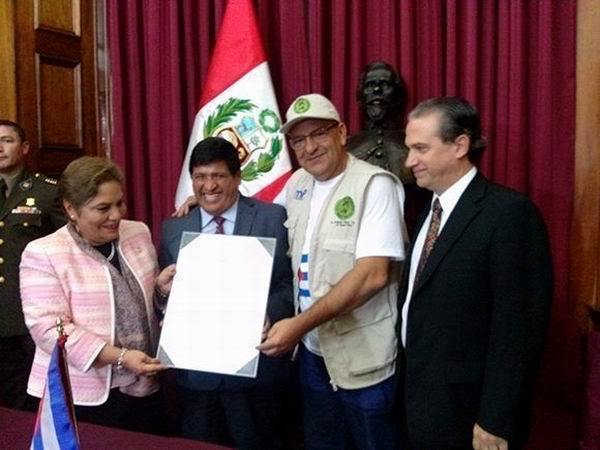 The Peruvian parliament paid tribute to the Cuban medical brigade that for more than two months has been assisting the victims of the torrential rains that devastated the northern region of Piura.

The lawmakers praised Cuban solidarity, when they appeared last night in the guest box, during a plenary session, after a ceremony in which they received diplomas of honor from the Congress and the Peru-Cuba Parliamentary League, Prensa Latina reported.

The group of four doctors, led by the brigade leader, Rolando Piloto, thanked the warm reception received from legislators that recognize the solidarity of the Cubans, members of the Henry Reeve International Contingent, trained to act in disaster situations.

Previously, President of the Congress Luz Salgado and the president of the Peru-Cuba League, Zacarias Lapa, presented a diploma of recognition to the brigade and diplomas of honor for each one of the 23 members of the brigade, in an event attended by the Cuban ambassador, Sergio González, and the members of the diplomatic mission.

Both expressed their appreciation for the hard work of Cuban professionals and their solidarity, and Salgado emphasized the quality of the work they performed and emphasized collaboration and mutual respect as a characteristic of Peruvian-Cuban relations.

I had the opportunity to see the work that health specialists from Cuba have done especially in Piura. Lately I was in that area and I could see them and what I received was the best words of the Piurans themselves, who expressed the support and help they have received from our brothers from the north, he said.

Other legislators also participated, such as Marco Arana and Alberto Quintanilla, among others, who agreed to highlight the principles of solidarity and Latin American integration that characterizes the Cuban revolution.

(ACN)

Radio Rebelde. 23 # 258 % L y M. Vedado. Plaza de la Revolucion Havana City, Cuba CP. 10400. Principal Editor: Pablo Rafael Fuentes de la Torre. Webmaster: Mabel Peña Styo. Journalist: Liannis Mateu Francés - Laura Barrera Jerez.Photojournalist: Sergei Montalvo Arostegui. Comunity Manager: Alejandro Rojas. Assistant: Adriana Glez Bravo. Developed by Radio Rebelde Web Team
General Director: Frank Aguiar Ponce.
Phone numbers: (53) 7 838-4365 al 68 (Cabin) (53) 7 839-2524 (Public Relations).
© Copyright Radio Rebelde, 2015