---
President of East Timor Extols Work of Cuban Pedagogues
2011.05.21 - 13:42:13 / web@radiorebelde.icrt.cu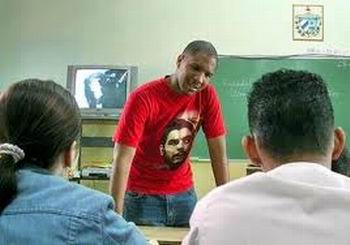 Havana, Cuba.- Jose Ramos Horta, President of East Timor and Nobel Peace Prize winner in 1996, extolled on Friday in Dili the work of the Cuban Literacy Teaching Brigade in that nation of the Asia-Pacific region.

The head of state gave the Order of East Timor Medal and the supporting document to Jorge Salvador Lopez, head of the group of educators, during the ceremony and military parade held at the Government's Palace, on the occasion of the 19th anniversary of the of the restoration of that small nation's independence.

With this medal, the authorities and the people of East Timor acknowledge the self-sacrificing work carried out by 80 Cuban professors over the last four years, as a result of which 116,764 citizens have learned how to read and write -50.58 percent of the illiterates that existed at the beginning of the program-, the www.cubaminrex.cu web site reported.

The same medal was granted to the Cuban Medical Brigade on August 30, 2008, on the occasion of the 10th anniversary of the popular referendum.

At the beginning of this month, during a meeting with medical students of the National University of East Timor, Ramos Horta thanked the Cuban government for its significant support in the fields of education and health.

He mentioned the work carried out by Cuban teachers in his country, which will make it possible to declare East Timor a territory free of illiterates by 2015.

Likewise, he highlighted the role played by Havana's Medical School and the Cuban professors in the training of physicians-to-be of East Timor.


(ACN)

Radio Rebelde. 23 # 258 % L y M. Vedado. Plaza de la Revolucion Havana City, Cuba CP. 10400. Principal Editor: Pablo Rafael Fuentes de la Torre. Webmaster: Mabel Peña Styo. Journalist: Liannis Mateu Francés - Laura Barrera Jerez.Photojournalist: Sergei Montalvo Arostegui. Comunity Manager: Alejandro Rojas. Assistant: Adriana Glez Bravo. Developed by Radio Rebelde Web Team
General Director: Frank Aguiar Ponce.
Phone numbers: (53) 7 838-4365 al 68 (Cabin) (53) 7 839-2524 (Public Relations).
© Copyright Radio Rebelde, 2015