---
President of India on an Official Visit to Cuba Pays Tribute to Fidel
2018-06-22 11:34:45 / web@radiorebelde.icrt.cu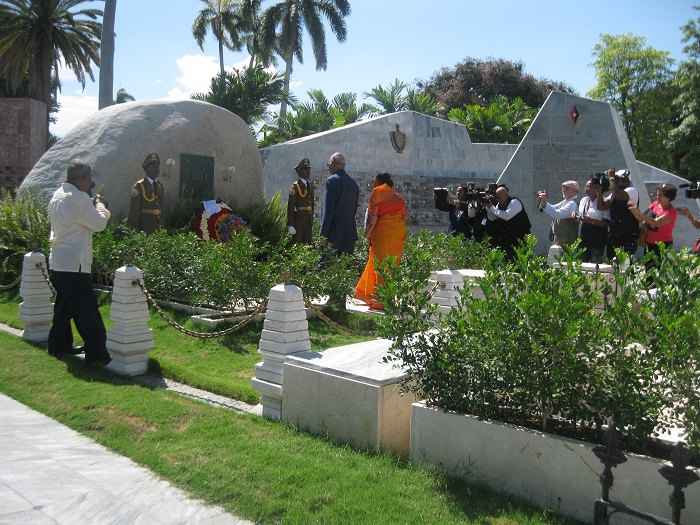 The President of the Republic of India, Ram Nath Kovind began an official visit on Thursday in Santiago de Cuba where he paid tribute to the historic leader of the Revolution, Fidel Castro in the Santa Ifigenia Cemetery.

The Eastern Army Music Band played the national anthem of Cuba and India upon his arrival at the cemetery in the eastern city.

The Head of State saw the ceremony that consists in the change of Honor Guards in the area of the founding forefathers accompanied by the President of the Provincial Assembly of the People's Power and Vice President of the Council of State Beatriz Johnson.

The distinguished visitor placed a floral wreath alongside his wife Savita Kovind at the stone that holds the ashes of Commander Fidel Castro.

He also placed flowers before the Jose Marti Mausoleum and the tombs of the Father of the Homeland Carlos Manuel de Cespedes and the mother of all Cuban people Mariana Grajales.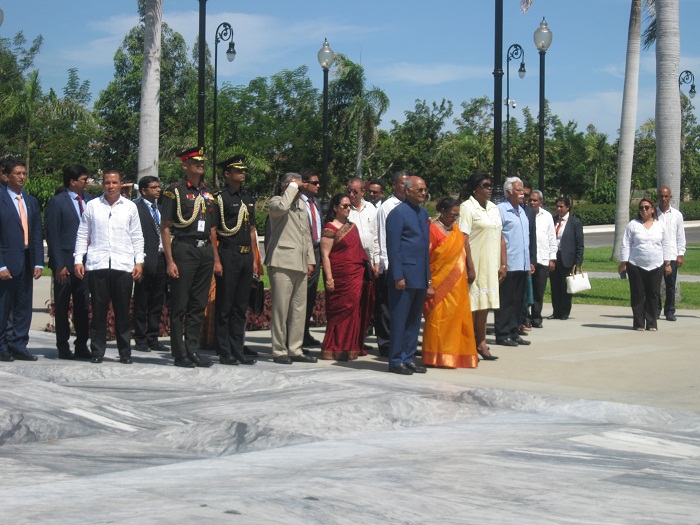 The Indian Head of State highlighted in the book of visitors the role of Fidel Castro in the Movement of Non Aligned Countries and praised the friendship ties that united the Caribbean island to India, where he had visited twice.

Fidel had always exemplified with strength, conviction and courage, values that are currently present in his memorial, wrote Ram Nath Kovind who is in Cuba for the first time.

Santa Ifigenia Cemetery, National Monument is considered an outdoor museum for its historic values, heritage and culture that it treasures.

It constitutes a site where the Cuban people and foreigners visit to learn about its history and in particular to pay tribute to renowned figures that were laid to rest.

Since the ashes of the leader of the Revolution Fidel Castro was placed in the monumental stone in December of 2016, over one million people from some 70 countries have visited the cemetery.
By Marlene Montoya

(ACN)

Radio Rebelde. 23 # 258 % L y M. Vedado. Plaza de la Revolucion Havana City, Cuba CP. 10400. Principal Editor: Pablo Rafael Fuentes de la Torre. Webmaster: Mabel Peña Styo. Journalist: Liannis Mateu Francés - Laura Barrera Jerez.Photojournalist: Sergei Montalvo Arostegui. Comunity Manager: Alejandro Rojas. Assistant: Adriana Glez Bravo. Developed by Radio Rebelde Web Team
General Director: Frank Aguiar Ponce.
Phone numbers: (53) 7 838-4365 al 68 (Cabin) (53) 7 839-2524 (Public Relations).
© Copyright Radio Rebelde, 2015