---
Ramiro Valdes Oversees Investments in Tourism and Industry
2017-07-07 10:14:22 / web@radiorebelde.icrt.cu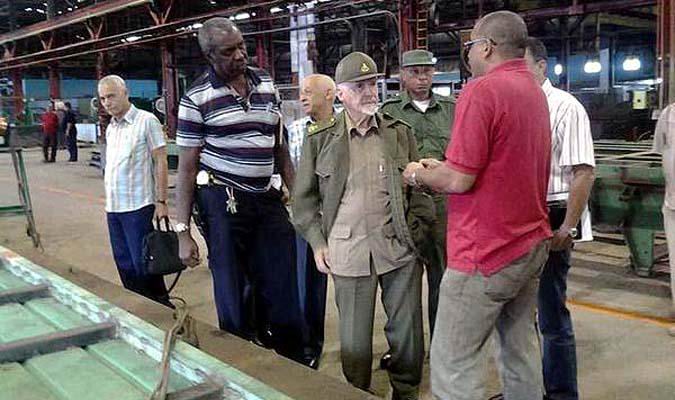 Member of the Political Bureau of the Cuban Communist Party, Commander of the Revolution Ramiro Valdes assessed on Thursday in in the city of Cardenas the investment underway in the railway industry and tourism sector.

Valdes visited the Jose Valdes Reyes Industrial Railway Company, entity that finished the reparation of 74 equipment by the end of June of an annual plan of 180 as part of its contribution to the recovery of Cuba's railway program.

During the visit, Ramiro Valdes spoke on the need to produce as much spare parts as possible for the country with the objective of substituting imports and called on the local industry to develop its own resources.

He learned on the work of the industry like the center at the University of Matanzas, where 31 students are dedicating their thesis on the problems of the company like computerizing technologic processes and the design of the passenger coaches.

The Commander of the Revolution also toured the Sanitary Products joint venture (Prosa) where he checked the investment whose initial stage should begin next October and learned that the center complied with 98 percent of its sales plan to the tourism sector at the end of the first semester of the year.

Ramiro Valdes received an update on the investment of the underground electric line of 110 KV in Varadero beach resort, work that should conclude with the start of the substation of the Historic Center next September.

The Director of the Tourism Service of the Electric Company in Varadero told the press that the Punta Hicacos Substaion, which will contribute with some 10 megawatts, is technically ready and will be energized before giving service.

Some 40 kilometers of outdoor lines and poles will be taken down when the Punto Hicacos substation begins working, said Rodriguez and added that two thousand led lightings have already been installed in the tourism complex and another one thousand 200 will be placed in the highway.
by Roberto Jesus Hernandez Hernandez

(ACN)

Radio Rebelde. 23 # 258 % L y M. Vedado. Plaza de la Revolucion Havana City, Cuba CP. 10400. Principal Editor: Pablo Rafael Fuentes de la Torre. Webmaster: Mabel Peña Styo. Journalist: Liannis Mateu Francés - Laura Barrera Jerez.Photojournalist: Sergei Montalvo Arostegui. Comunity Manager: Alejandro Rojas. Assistant: Adriana Glez Bravo. Developed by Radio Rebelde Web Team
General Director: Frank Aguiar Ponce.
Phone numbers: (53) 7 838-4365 al 68 (Cabin) (53) 7 839-2524 (Public Relations).
© Copyright Radio Rebelde, 2015