---
Resistance is what Brazil needs, says Dilma Rousseff
2018-07-16 09:51:04 / web@radiorebelde.icrt.cu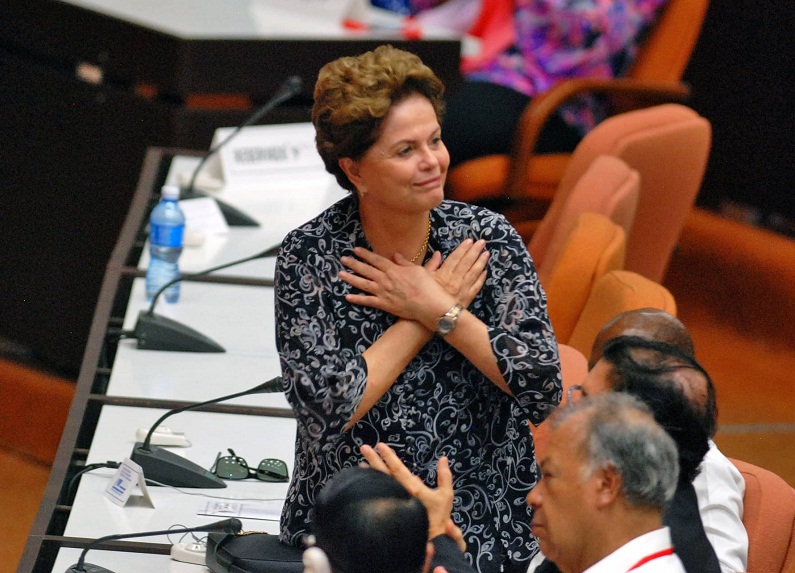 Dilma Rousseff, former president of Brazil, said on Sunday in Havana that the resistance of the Brazilian people is the condition for putting Luiz Inácio (Lula) Da Silva and his project back in the polls in the country.

The president of the South American giant from 2011 to 2016 said that what is happening today with the Workers' Party's favorite candidate for the Brazilian government, imprisoned for 100 days after a rigged judicial process, cannot be accepted.

Speaking at a plenary session against colonialism and peace as part of the XXIV Meeting of the Sao Paulo Forum in this city, Rousseff denounced the arbitrariness committed against Lula, one of the strongest personalities of the Brazilian political situation.

She thanked the solidarity shown by the nations of Latin America and Europe in placing messages on the Internet in favor of Lula's liberation in the face of the silence and manipulation of the case by the great media emporiums of her country.

Dilma, who faced a political trial to remove her from office and who provoked the rise of Michael Temer to power, said that Lula is the embodiment and hope of a people, and that's why he provokes so much fear among the Brazilian elite and the bourgeoisie.

In the presence of an audience of more than 400 delegates to the meeting, she referred to the difficult situation in her country, which she described to be in the middle of a political, economic and, above all, social crisis.

She recalled how a significant part of the poverty and inequality in the nation was reversed during her and Lula's rule, as opposed to the interests of the right-wing and bourgeois sectors.

Rousseff criticized the serious reforms imposed under the current presidency, which fundamentally attack the working class by making work precarious, as well as the budget cuts to health and education.

She said, however, that they failed to put an end to the More Doctors program, launched during her term in office to fill the shortage of doctors in municipalities in the interior and on the outskirts of Brazil's large cities, "because the population prefers Cuban doctors," and they would fail if they tried to stop that initiative, she said.

The session was also attended by Venezuelan constituent Julio Chávez, who denounced the constant siege of his people and the attempts to disregard the democratic legitimacy of the newly elected President Nicolás Maduro.

He said that the Constituent Assembly of Venezuela is working to ensure that the new Constitution deepens the social and structural changes that the country needs.

Until July 17, parties, left-wing groups and social and progressive movements of the region will meet in Havana's Convention Palace to discuss and seek common positions in the face of the continuous advance of neoliberalism.

(ACN)

Radio Rebelde. 23 # 258 % L y M. Vedado. Plaza de la Revolucion Havana City, Cuba CP. 10400. Principal Editor: Pablo Rafael Fuentes de la Torre. Webmaster: Mabel Peña Styo. Journalist: Liannis Mateu Francés - Laura Barrera Jerez.Photojournalist: Sergei Montalvo Arostegui. Comunity Manager: Alejandro Rojas. Assistant: Adriana Glez Bravo. Developed by Radio Rebelde Web Team
General Director: Frank Aguiar Ponce.
Phone numbers: (53) 7 838-4365 al 68 (Cabin) (53) 7 839-2524 (Public Relations).
© Copyright Radio Rebelde, 2015