---
Salvador Valdes Mesa Attends Gala in the People Democratic korea
2018-09-11 10:28:27 / web@radiorebelde.icrt.cu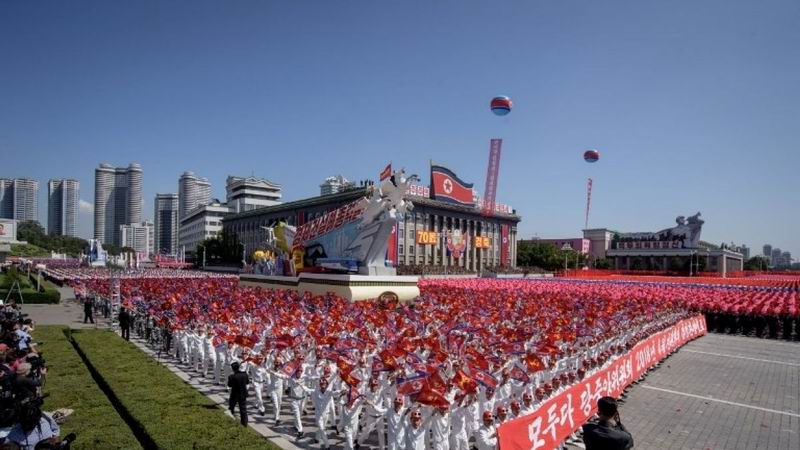 Cuba's First Vice President of the Council of States and Ministers, Salvador Valdes Mesa attended on Monday in Pyongyang an artistic gala for the 70th anniversary of the People's Democratic Republic of Korea.

Valdes Mesa accompanied the member of the Political Bureau of the Central Committee of the Korean Workers Party and President of the Presidium of the Supreme People's Assembly, Kim Yong-nam, reported Prensa Latina News Agency.

The solemn gala held at the Sports Palace paid tribute in several acts of important moments in the history of North Korea, from its victory from Japanese colonialism in 1945 to date.

Prensa Latina reported that the member of Political Bureau of the Central Committee of the Cuban Communist Party arrived Sunday afternoon to the Sunan International Airport where he was welcomed by the Vice President of the Central Committee of the Workers Party, Ri Su-yong during a State ceremony.

This is Salvador Valdes Mesa's second visit to North Korean where he was send as special envoy of the First Secretary of the Cuban Communist Party, Army General Raul Castro on June 28th, 2016.

Valdes' main mission was to inform the maximum leaders of the Workers Party the results of the 7th Congress of the Cuban Communist Party.

At that time, the President of the Party, Kim Jong-un who spend over one hour speaking to the Cuban government official, welcomed him.

The close communication and exchange of bilateral Party and government work dates back 12 years after the creation of the People's Democratic Republic of Korea and barely 12 months of the triumph of the Cuban Revolution.

Valdes Mesa visited North Korea after a brief stop to Beijing as a response to an official invitation of the North Korean Party authorities as a special guest to the celebrations of the foundation of the country (1948).

The First Vice Minister of Foreign Affairs, Marcelino Medina and the Director of Asia and Oceania for the Foreign Ministry, Alberto Blanco were part of the delegation.

In addition to Cuba, official delegations and special envoys of Parties, Governments, representative of organizations and solidarity and friendship groups with North Korea participated in the ceremony.

The guests will participate in a mega military parade and later a popular rally to be held in Kim Il-sung Plaza in the capital of North Korea.

(ACN)

Radio Rebelde. 23 # 258 % L y M. Vedado. Plaza de la Revolucion Havana City, Cuba CP. 10400. Principal Editor: Alejandro Rojas Espinosa. Webmaster: Mabel Peña Styo. Journalist: Liannis Mateu Francés - Yaicelín Palma TejasPhotojournalist: Sergei Montalvo Arostegui. Assistant: Adriana Glez Bravo. Developed by Radio Rebelde Web Team
General Director: Frank Aguiar Ponce.
Phone numbers: (53) 7 838-4365 al 68 (Cabin) (53) 7 839-2524 (Public Relations).
© Copyright Radio Rebelde, 2015