---
Sam Nujoma receives Cuba First Vice-President
2019-03-26 11:31:25 / web@radiorebelde.icrt.cu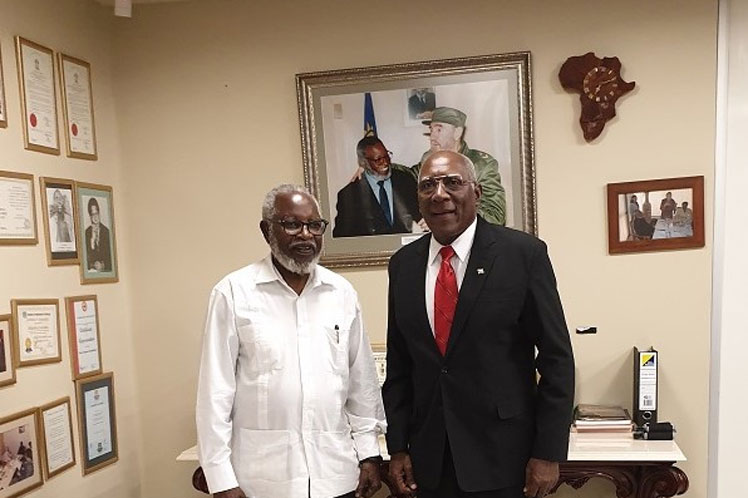 The Father of the Namibian nation Sam Nujoma, the first president of that country and close companion of Commander in Chief Fidel Castro Ruz in the anti-colonialist struggles for the independence of the peoples of Southern Africa, received with a fraternal embrace Salvador Valdés Mesa, First Vice President of the Councils of State and Ministers, who is making an official visit to that African country.

During the meeting, the Cuban First Vice President transmitted a revolutionary and combative greeting from the First Secretary of the Communist Party of Cuba, Army General Raúl Castro Ruz, and the President of the Councils of State and Ministers, Miguel Díaz-Canel Bermúdez, according to the cubaminrex website.
Valdés Mesa expressed his gratitude to Nujoma for allowing him the opportunity of this meeting, which he considered a great honor, as well as that of being in Namibia, a few hours after his brave people celebrated the 29th anniversary of independence.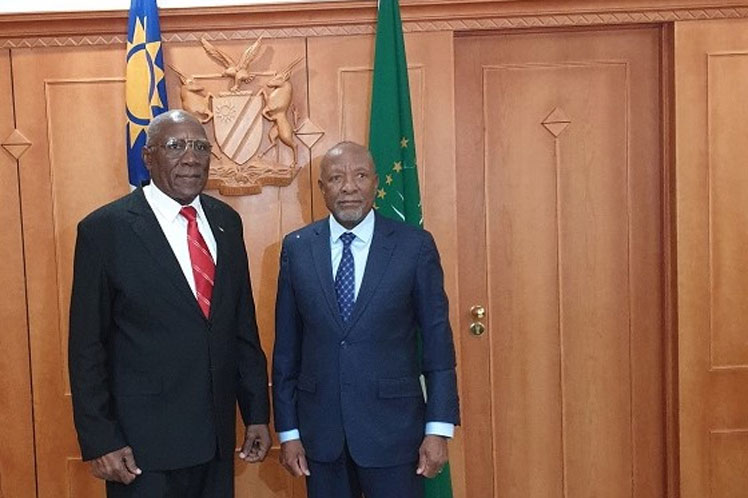 This is a circumstance that has great significance and satisfaction for Cuba, which sent internationalist fighters in support of the struggles of the Angolan, Namibian and South African peoples, he said.

Nujoma emphasized his country's gratitude to the Cuban Revolution, its people and Fidel, for having sent Cuban troops, who crossed the Atlantic Ocean to fight in Angola, together with the fighters of the Forces for the Liberation of Angola (FAPLA) and SWAPO, and then, at the end of the 1980s, to fight directly in Cuito Cuanavale, a battle he considered decisive for the liberation of the peoples of Southern Africa.

The historic leader of SWAPO considered it vital to continue the historic relationship between the two peoples and develop it in other areas, such as the economic field, said cubaminrex.

(ACN)

Radio Rebelde. 23 # 258 % L y M. Vedado. Plaza de la Revolucion Havana City, Cuba CP. 10400. Principal Editor: Alejandro Rojas Espinosa. Webmaster: Mabel Peña Styo. Journalist: Liannis Mateu Francés - Yaicelín Palma TejasPhotojournalist: Sergei Montalvo Arostegui. Assistant: Adriana Glez Bravo. Developed by Radio Rebelde Web Team
General Director: Frank Aguiar Ponce.
Phone numbers: (53) 7 838-4365 al 68 (Cabin) (53) 7 839-2524 (Public Relations).
© Copyright Radio Rebelde, 2015