Silvio Alejandro Rodríguez: A Popular Trouvador
2012.08.02 - 09:25:34 / web@radiorebelde.icrt.cu / Translated by: JC Caballero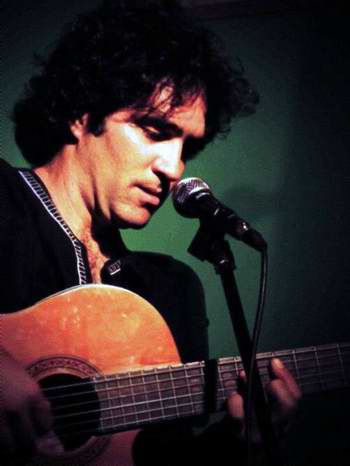 Having a guitar and songs such as Traga Luz, Luna y mar, Soldados y Luna verde accompanied the Troubadour Silvio Alejandro Rodríguez in his visit to Radio Rebelde station.

As each Thursday, the Radio Rebelde station´s Estaciones program receives young artists who talk through a microphone and has the opportunity to make public their work.

He says that he is affectionate and opened minded, as well as the fact that his own paths in life have been carried out in a risky and spontaneous way. Besides,

There are certain occasions in which he has been naive which in some way have increased his personal charm.

This way, Silvio achieves through his pleasant and carefree conversation to charm in an accurate way those persons who he has shared his life with.

The aforementioned troubadour's musical production have three records such as the ones entitled Quedado en la Habana, Multitudes en la Silla from the year 2003, and the one entitled Tanto Remar from the year 2006, respectively. All his songs have a social and thought-provoking nature given that the world is revealed through this artist's vision.

Silvio Rodríguez has performed in different stages in Cuba and the rest of the world such as Chile, Ecuador, Turkey, Japan, and Canada, among others in which his repertoire has been enjoyed by the local audience..

In the year 2006, he obtained the Cuerda Viva prize and made the video clip of songs entitled as Soldados and Tu canción.

The singer-songwriter, Silvio Rodrígues, recalls with nostalgia the meetings with friends in the lobby and its building where he shares ideas and dreams through the art in a poetic tone Silvio Rodríguez says ´I knew the song made by a guitar combined with a voice there for the first time and I composed some accords during countless midnights.´

Silvio Rodrígues had the space entitled La peña de los Lunes that had a great success during the 1990 decade. Besides, there were many lovers of the music, reading and poetry who attended to this type of event in which some serenades were sung, as well as the music made by Pablo Milanés, Silvio Rodríguez, Fito Páez, among others exponents of this musical genre.

Silvio Rodríguez, who considers his first stage as a student as a dark period that was full of troubles, said by adding some philosophical idealism to his words: ´I used to be a good boy during my childhood but time and the local environment changed me a bit.´

In addition, Silvio´s spiritual values were created by books, Cuban and Latin American poetry, music and the guitar.

The young performer respects and admires maestro Edilio Hernández who was the tenor of the National Opera of Cuba during many years, as well as a teacher of the new generation of singers, professor of guitar, Leída Lombar, who was from the special course of the Cuban Music Institute and he thanks her patient and constancy while she was trying to make him a real guitarist and singer.

´It was at an Art Gallery, which is located in the Galiano Street, the very first time I sang in public and I performed with local troubadour Ulises Toirac. I survived that afternoon and I changed my job at least. Besides, I decided to follow that path that leads me many years later to the Estaciones program.´ Silvio narrates his stories with certain humour that adds a new element to this type of musical meeting.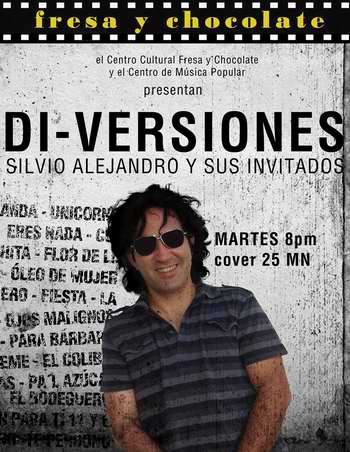 Nowadays, Silvio Alejandro Rodríguez, has the Tres Tazas cultural event at the Pabellón Cuba cultural centre from 500pm to 800pm which is a space that combines different artistic expressions that are aimed at achieving a harmony in its cultural proposal. The music, fine arts and literature are combined to form a different and contemporary vision on the reality. He finally considers it as a cultural space that serves to share the song, the arts and coffee.

There have been many troubadours, playwrights and poets, as well as some personalities such as the pianist Harol López Nussa, singer Haydéé Milanes and the local troubadours Tony Ávila and Frank Delgado who are part of the long list of artists that have entertained the capital audience for four years. Besides, it is there where it is enjoyed from an intelligent music during the last Friday of each month.

Silvio, who has recently performed at the National Fine Arts museum´s concert room, said: ´ with the presentation of the song entitled La Verdad no está mal´ we could create a dvd in association with the Pablo centre; besides, I felt very well and I believe that the people who were there really enjoyed it a lot.´

The aforementioned cultural activity was attended by local troubadour Ariel Díaz, painter Yoel Valdivia, as well as the local percussionist Fernando Llero and guitar player Joelsis Amiel.

One of the songs from Silvio´s repertoire is entitled Piedra del mismo río that is dedicated to his son Martín. This artist feels a special affection by this song that tries to guide his son through common paths and take him away from other ones that are foreign to him.

With the small lyric that says ´Y aunque no esté mi mano cruzando un destino por aquel futuro lejano tu y yo siempre seremos piedra del mismo rio´ Silvio paid homage to his most beautiful treasure or descendant.

´The act of creation constitutes a solitary and peace moment. The troubadour is only feeling sure on the quality of his work when he faces the audience. All the praises received by me from the listeners are like a gift to me and they reinforce my self-esteem. I won't let them down and I will try to be better each single day.´ By Livhy Barceló Vázquez