---
Sixty Years of a Wedding
2019-02-19 10:39:53 / web@radiorebelde.icrt.cu / Translated by: JC Caballero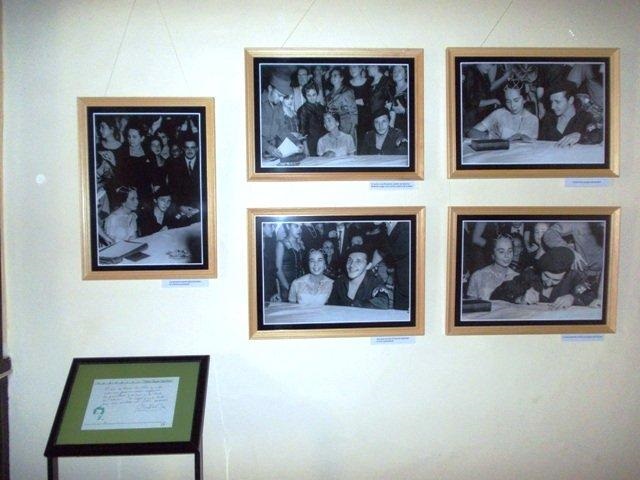 The pictures of the Historic Affairs Office of the local State Council and the photographs Humberto M. Pérez and Francisco Cano, Panchito are part of that exhibition which recreates the wedding ceremony that was held at the Rancho Club Hotel at the entrance of Santiago de Cuba province on January 26th , 1959.

María Esther Mora, who is the curator of the Vilma Memorial, explained that then doctor Juan Escalona Reguera, who was the judge who married Raúl and Vilma, can be seen in the wedding certificate as well as one of the invitations, the shoes usd by the beloved guerila fighters and one of the cups used to toast.

Scenes with their children and grandchildren also appears in that photographic exhibition that took place in the bush, along with the page of the visitors book on November 2010 in which the Army General and First Secretary of the Communist Party of Cuba, Raúl Castro Ruz, wrote:

"On January 26th, 1959, I wore a new guerrilla-fighter uniform at this house and I went to the wedding with Vilma and that was the best and the most beautiful I did in all my life."

Having the design and production by the local Santiago Art Gallery, that photographic proposal enables a love and family vision on Raúl Castro´s relationship with Vilma that was reinforced by deep patriotic feelings and their passion for Cuba, along with an endless commitment about the armed fight in the cities, the Sierra Maestra Mountain range and the Frank País García Segundo Frente Oriental (Second Eastern Front).
By Sergio Martínez

Radio Rebelde. 23 # 258 % L y M. Vedado. Plaza de la Revolucion Havana City, Cuba CP. 10400. Principal Editor: Alejandro Rojas Espinosa. Webmaster: Mabel Peña Styo. Journalist: Liannis Mateu Francés - Yaicelín Palma TejasPhotojournalist: Sergei Montalvo Arostegui. Assistant: Adriana Glez Bravo. Developed by Radio Rebelde Web Team
General Director: Frank Aguiar Ponce.
Phone numbers: (53) 7 838-4365 al 68 (Cabin) (53) 7 839-2524 (Public Relations).
© Copyright Radio Rebelde, 2015