Solidarity meeting with Cuba kicks off in Nigeria
2019-09-25 13:17:24 / ACN
---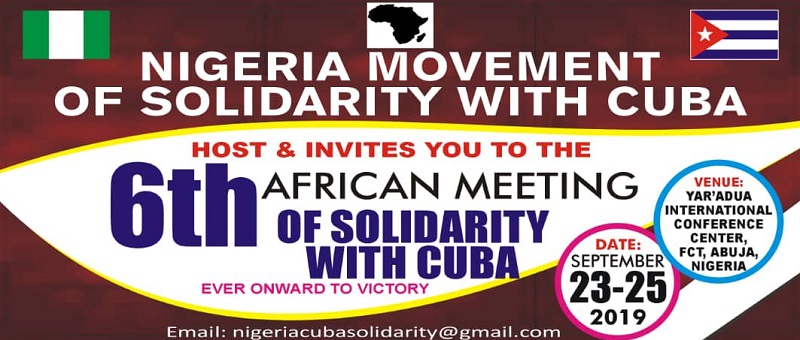 With the participation of more than 100 delegates from around twenty African countries, along with Venezuela and the United States, the 6th African Continental Meeting of Solidarity with Cuba kicked off in Abuja, Nigeria.
The solidarity meeting will be held from September 23-25 and has been hosted by the Nigerian Movement of Solidarity with Cuba, together with the Nigeria Labor Congress, one of the largest trade union federations in that nation.
According to Cubaminrex website, the Nigerian Minister of Science and Technology, Yemi Osinbajo, expressed the significance of the meeting, while praising the development of the Caribbean nation in strategic fields such as medicine, biotechnology and others; he stressed the interest in fostering relations with Cuba in these strategic sectors.
The meeting is a backing to the Revolution, to the Cuban people and a resounding rejection to the blockade imposed by the United States against Cuba, to the Helms-Burton Law and to the activation of its Title III.
Namibia's Deputy Minister of Foreign Affairs, Christine Hoebes, expressed her gratitude to Cuba for its generous contribution to the independence process and the struggle against apartheid in Africa.
The Saharawi friend Suelma Beirut, member of the African Parliament, acknowledged Cuba's permanent support for the cause of her people.
For his part, the Hero of the Republic of Cuba and President of the Cuban Friendship Institute (ICAP), Fernando Gonzalez Llort said: "Africa is a sure stronghold of solidarity with Cuba in the world. Its affection and support has always accompanied generations of Cubans, from the early days of the Cuban
Revolution... Cuba will not allow be intimidating, nor diverting from the essential and urgent tasks of the development of our economy and the construction of socialism".
Along with the ICAP head, representatives of the Central Committee of the Communist Party and the Cuban Workers Federation are part of the Cuban delegation.
All the delegates present at the event have ratified that Africa and Cuba have strengthened their historical ties of friendship and solidarity and that the 6th African Continental Meeting of Solidarity with Cuba constitutes an act of recognition to the legacy of the Commander in Chief, Fidel Castro, and to the lasting presence of the Cuban Revolution in Africa, a region that has witnessed the work of thousands of Cuban collaborators.