---
Southern Stingray Caught and Exhibited in Cuba
2010.02.10 - 18:00:49 / web@radiorebelde.icrt.cu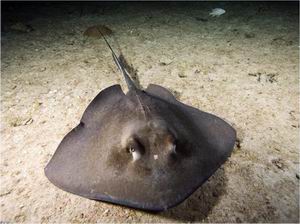 HAVANA, Cuba. - A team of divers from the Cuban National Aquarium caught in the waters north to this entity at a 18 meter depth a 3 foot long Southern Stingray.
After a training and adaptation process, the fish is in good health, as its eating of fish pieces fed at it shows, and now swims in the 7th pond, reported to ACN specialists from this facility.
Its scientific name is Dasyatis americana and it is also known as Atlantic southern stingray, kit, stingaree, or stingray. It is a species that tolerates a wide range of temperature and salinity, feeds with large invertebrate and small fishes, mainly at night.
Duirng day time, the Southern stingray remains almost fully buried under the sand, though it can be found in muddy seabed as well.
The tip of its tail is poisonous and it uses to defend itself. It can reach 10 feet in length and 6 in with, and its face is small. The side is of dark brown color, lighter in the young ones, and inhabits mainly tropical and subtropical seas.

(ACN)

Radio Rebelde. 23 # 258 % L y M. Vedado. Plaza de la Revolucion Havana City, Cuba CP. 10400. Principal Editor: Pablo Rafael Fuentes de la Torre. Webmaster: Mabel Peña Styo. Journalist: Liannis Mateu Francés - Laura Barrera Jerez.Photojournalist: Sergei Montalvo Arostegui. Comunity Manager: Alejandro Rojas. Assistant: Adriana Glez Bravo. Developed by Radio Rebelde Web Team
General Director: Frank Aguiar Ponce.
Phone numbers: (53) 7 838-4365 al 68 (Cabin) (53) 7 839-2524 (Public Relations).
© Copyright Radio Rebelde, 2015