Spanish Ballet on Closing Evening of Havana Int'l Festival
2010.10.25 - 17:13:41 / ACN
---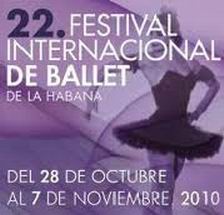 Havana, Cuba.- The Samsara ballet, one of the most recent choreographies by Spanish Victor Ullate, will be performed on the closing evening of the International Ballet Festival of Havana.

In the ballet 18 dancers establish a dialogue between the eastern and western cultures through musical rhythms from different ethnic groups from Iran, India, Egypt, Nepal, China and Japan, says a report by the National Ballet of Cuba (BNC).

Samsara has been defined by its creator as a dance of life and as his artistic will, because of its scenes of great emotion and beauty resulting from the combination of moves, music and phrases that express the spirit of liberation.

Victor Ullate is an important figure of the Spanish culture, dancer, choreographer and professor. He currently leads the Primeros Pasos project as part of the Fundacion para la Danza foundation which grants scholarships to children from shelters in Madrid to be trained in the School of Dance

Ullate began his career in 1962 and he was a member of the Antonio Ruiz Soler company and the Siglo XX Ballet of Maurice Béjart.

As guest dancer, he has collaborated with the BNC and the London Festival Ballet. After leading several companies in Spain, Ullate created his own company, the Community Ballet of Madrid.