Substantial investments in Cienfuegos water resources
2012.07.04 - 13:50:49 / web@radiorebelde.icrt.cu / Translated by: Pedro A. Fanego Sea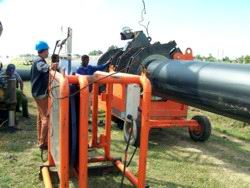 Cienfuegos, Cuba. - The office of the Water Resources Institute in this south-central province is undertaking some significant projects. It is building "Paso Bonito-Cruces" principal canal, a pipeline to the water treatment plant and some aqueducts.

These works will benefit over 250 000 citizens of Cienfuegos, a province about 250 km from Havana. They have started to receive enough water, with the required quality. Such investments, in excess of 65 million pesos, do not include future municipal aqueducts, as part of the enhanced Water Resources.

The new pipeline is already operational at "Las Minas" settlement. It will complete the supply to "Punta Gorda" People's Council and reach "La Punta" with almost round the clock service. They will be progressively connected to city networks, including "La Reina" neighborhood, during the present and the next year. The 17 km pipeline to the Nuclear City and Jagua Castle will be finished next December, according to water resources officer Joaquin Milian.

He elaborated on short, medium and long-term investment programs.

"The medium and long-term investments will unfold in two directions. The first system will be Hanabanilla-Paso Bonito-Aviles-principal canal-petrochemical cluster-Cienfuegos City and bordering areas. The second includes the investments in the southern circuit and is linked to tourist development.

According to the feasibility study, water will be all supplied by gravity. The first stretch of "Paso Bonito-Cruces" canal flows down to Hanabanilla River. It includes power generation at the mini-hydroelectric and supplies "Paso Bonito" dam until the diversion canal and Aviles dam.

Later, it will reach "Espartaco" sugar factory, through the principal canal where water flows at a rate of 10³ per second. Then it will pass by the Sugar Industry Logistics Company. Finally, it will supply water to the so-called "Pearl of the South", after treating it at plant with a 1 500 liters capacity.

"This plant would guarantee a larger supply to the city and would ensure 50 years of development in housing, industrial and agricultural infrastructure. It would also provide comprehensive sustenance to the northern part of Cienfuegos territory.

"Another axis in the southern circuit involves water that will flow by gravity to "El Naranjo" minihydroelectric, "El Colorado" and "Caleta Muñoz" all the way to Pasacaballos Hotel. That water will benefit the southern circuit population, the fundamental workforce for tourist and agricultural development."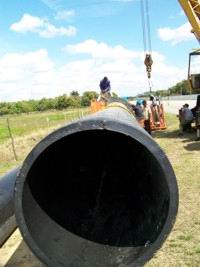 Milian elaborated on the ongoing works in "Reina" neighborhood, "This year's investment will guarantee water supply to 46th Avenue and 29 St. through a 450 mm pipeline.

It all started with the 2008 investment in "Punta Cotica" (2008), which feeds "Pastorita" aqueduct from "Damuji" dam. This contributed to an urban development that began in 2005 with the infrastructure for over 300 new houses."

He referred to the works in Nuclear City and Jagua Castle and stressed "the importance of a 5 000 liters tank and a 400 mm pipeline. The latter is 17 km long, of which six are already finished and will be shortly connected to the old pipeline. They will finish excavating and laying the pipelines next December."

According to Joaquin Milian, the canal out of "Aviles" dam is still vulnerable until the regulator. They plan to supply water by gravity in the current five-year period (2015).

He emphasized the novelty of almost 88 km of water flowing by gravity and said, "We could speak of an integral hydraulic complex: "Hanabanilla", "Paso Bonito", "Aviles", diversion and principal canals that reach "Abreus" dam and "Damuji" system."

"We are looking forward to supplying water to towns that have no aqueduct today: Ariza, Palmira, Cartagena and Lajas. They consume underground water with limited capacity. We intend to supply those towns from "Damuji" dam in the current five-year period, including Abreus administrative center, which now consumes underground water and could receive it by gravity."

"The medium term strategy is integrated to agricultural development plans. We plan to irrigate grain plantations, in over 1 370 hectares of land bordering the principal canal."

Those investments depend on the country's possibilities and will contribute to improving Cienfuegos people's life quality. By: Mireya Ojeda