---
Successful Presentation of La Colmenita in Bogota
2010.08.06 - 11:55:09 / web@radiorebelde.icrt.cu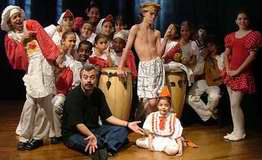 HAVANA, CUBA.- The Cuban Children's Theater Group La Colmenita performed the piece La Cucarachita Martina with great success at the Eliecer Gaitan Theater of Bogota, along with the Youth Philharmonic Orchestra of San Cristobal.
On Wednesday, the public enjoyed the presentation, the fruit of the cooperation existing between Colombian maestro José Francisco Arroyo and Carlos Alberto Cremata, general director general of La Colmenita.
The Cuban cultural consultancy in the South American country favored the creation of a space for children and adolescents of scant resources to express themselves as individuals in harmony with their environment, the Prensa Latina news agency reports.
Arroyo highlighted that the objective of this visit was to bring the experience of La Colmenita to his homeland and incorporate it to the Philharmonic's' youth project.
"Seeing the magnitude of all this was very easy, so I began contacts without hesitation, in order to create a bridge between a small, poor locality and Cuba," he underlined.
The Cuban-Colombian project had the expert advice of Cuban instructors Marisel Pestana, Hector David (Riquifito), Claudia Alvariño (Muma), Tahimi Alvariño, Patricia Gómez and the girl Maria Carla Cremata.
The staging of La Cucarachita Martina allowed theater lovers in Bogota to enjoy the work of this Cuban cultural institution, appointed as Goodwill Ambassador by the United Nations Children's Fund (UNICEF).

(ACN)

Radio Rebelde. 23 # 258 % L y M. Vedado. Plaza de la Revolucion Havana City, Cuba CP. 10400. Principal Editor: Pablo Rafael Fuentes de la Torre. Webmaster: Mabel Peña Styo. Journalist: Liannis Mateu Francés - Laura Barrera Jerez.Photojournalist: Sergei Montalvo Arostegui. Comunity Manager: Alejandro Rojas. Assistant: Adriana Glez Bravo. Developed by Radio Rebelde Web Team
General Director: Frank Aguiar Ponce.
Phone numbers: (53) 7 838-4365 al 68 (Cabin) (53) 7 839-2524 (Public Relations).
© Copyright Radio Rebelde, 2015