---
Suriname sends donation to Cuba after hurricane Irma
2017-09-18 12:35:34 / web@radiorebelde.icrt.cu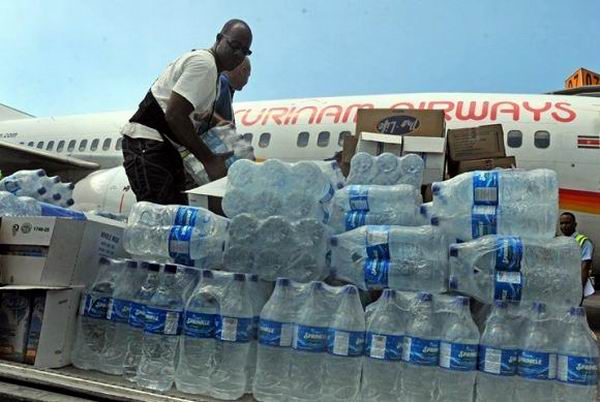 The government of Suriname sent an eight-ton donation to Cuba that includes water bottles, food, cooking utensils and blankets to help those affected by the hurricane Irma.

At the Jose Marti International Airport in Havana Rogelio Sierra, Deputy Minister of Foreign Affairs of Cuba, symbolically received the contribution of the South American nation.

The Boeing 737 aircraft of Surinam Airways arrived in Havana on Sunday at 2:30 p.m. from Paramaribo, and a group of representatives of that government traveled aboard the aircraft to deliver the cargo.

Speaking to the Cuban press, Michiel Raafenberg, permanent secretary of the Suriname Foreign Ministry, highlighted the ties of brotherhood that unite his country and Cuba, so he said they could do no less at this time so complex after the devastation left by the Hurricane in its wake.

The Surinamese diplomat showed solidarity with the Cuban cause for the recovery because he said, the island is an old friend of Suriname.

Cuba is in our thoughts, we are here with the little we have to support the Cuban people, he concluded.

The solidarity charge of Suriname is the second that arrives by air since Hurricane Irma lashed Cuba last week.

Venezuela was the first nation to send resources to the island and in the next few hours vessel from the Dominican Republic with materials and supplies will be added that will add to the great efforts and resources that the Cuban government has put in function of the recovery.

Likewise, the World Food Program has made available to those affected by Irma some 1,606 metric tons of food that will contribute to the protein balance of more than 600 thousand Cubans for about four months, in addition to providing 5.6 million dollars to buy additional materials for recovery.

Since the Civil Defense decreed the recovery phase after the hurricane, hundreds of thousands of Cubans have joined the cleaning and sanitation work in the Caribbean nation, with the goal of returning beauty to the streets and cities that suffered the clash of Irma's hurricane winds.

(ACN)

Radio Rebelde. 23 # 258 % L y M. Vedado. Plaza de la Revolucion Havana City, Cuba CP. 10400. Principal Editor: Pablo Rafael Fuentes de la Torre. Webmaster: Mabel Peña Styo. Journalist: Liannis Mateu Francés - Laura Barrera Jerez.Photojournalist: Sergei Montalvo Arostegui. Comunity Manager: Alejandro Rojas. Assistant: Adriana Glez Bravo. Developed by Radio Rebelde Web Team
General Director: Frank Aguiar Ponce.
Phone numbers: (53) 7 838-4365 al 68 (Cabin) (53) 7 839-2524 (Public Relations).
© Copyright Radio Rebelde, 2015