---
Syria Denounces US Attack on Military Base
2017-04-08 08:50:40 / web@radiorebelde.icrt.cu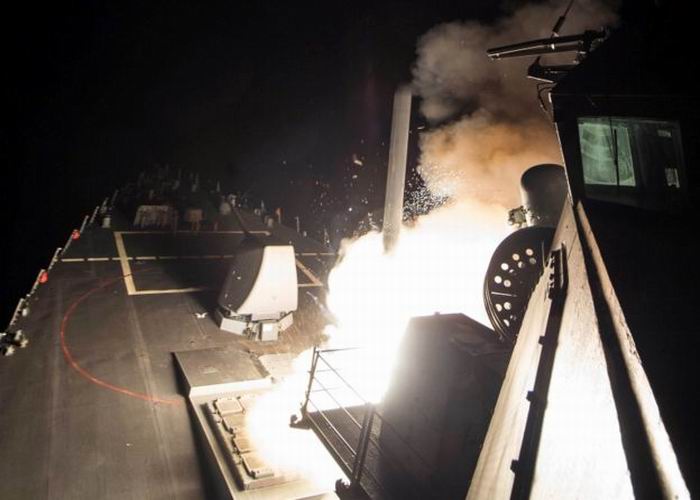 Damascus- The General Command of the Army and the Armed Forces in Syria have denounced today that the ''wrong strategy'' by the United States undermines the fight against terrorism in reference to the attack against an air base in the province of Homs.

This aggression, according to a statement in this regard, 'violates all international laws and conventions and aims to affect the capacities of the Syrian army in its fight against terrorism.'

The communication states that so far, about six people were killed, more than one dozen are injured and material damages are substantial at the Shayrat military airfield, located in the province of Homs and 180 kilometers north of Damascus.

The document states that the United States' attempt to justify this aggression by saying that it is in response to the use of chemical weapons of the Syrian Army in the city of Khan Shaykhun, in Idlib province, without determining the reality and those responsible for what happened, it sends wrong messages to terrorist organizations that would embolden them more to use chemical weapons in the future whenever they suffer large losses in the battlefield.'

The response to the U.S. aggression is 'the determination to continue with the duty to defend the Syrian people and to overcome terrorism wherever it may be and to restore security and stability in all the territories of the country,' the communication said.

(PL)

Radio Rebelde. 23 # 258 % L y M. Vedado. Plaza de la Revolucion Havana City, Cuba CP. 10400. Principal Editor: Pablo Rafael Fuentes de la Torre. Webmaster: Mabel Peña Styo. Journalist: Liannis Mateu Francés - Laura Barrera Jerez.Photojournalist: Sergei Montalvo Arostegui. Comunity Manager: Alejandro Rojas. Assistant: Adriana Glez Bravo. Developed by Radio Rebelde Web Team
General Director: Frank Aguiar Ponce.
Phone numbers: (53) 7 838-4365 al 68 (Cabin) (53) 7 839-2524 (Public Relations).
© Copyright Radio Rebelde, 2015